Jorge Lorenzo Takes Third In Indianapolis Thriller
Chaparral Motorsports
|
August 19, 2013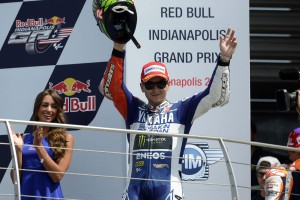 Reigning World Champion Jorge Lorenzo marked his return to fitness today with third in the Indianapolis Grand Prix, his fifth premier class podium finish at the US track. He impressed with a stunning start from second on the grid, out dragging both Marc Marquez and Dani Pedrosa to take the hole-shot into turn one. Lorenzo immediately built a half second gap and managed to hold the lead on a track not best suited to the Yamaha until Marquez squeezed past with 15 laps to go. Marquez was not allowed to break away and Lorenzo kept with him until fatigue set in as the race wound down and he was forced to relinquish second to Pedrosa with three laps remaining.

This important podium whilst still recovering from surgery allows Lorenzo to now return to European tracks favored by the YZR-M1 in full fitness and just 15 points behind Pedrosa in third on 153 points.

Teammate Valentino Rossi's race proved to be the opposite of Lorenzo's. The Italian nine-time world champion spent the early part of the race fighting with a less than perfect set up as he made up ground from his ninth position start on the grid. Nicky Hayden was dispatched on the second lap for eighth and fellow Yamaha rider Bradley Smith would follow. With just six laps remaining it was clear Rossi had saved the best for last, hunting down Alvaro Bautista and Cal Crutchlow who were fighting for fourth. Rossi joined the battle, swapping positions repeatedly until a stunning pass on the second to last corner of the last lap saw him steal fourth from Crutchlow and hold it to the line.

The result keeps Rossi in fourth in the overall standings with 130 points, three clear of Crutchlow in fourth. Rossi and the team will now head directly to Brno for the second of three consecutive back-to-back races.

Jorge Lorenzo - 3rd
"I made a very good start and I had half a second advantage in the beginning of the race. I had a lot of hope because I knew I had a good pace but suddenly in the middle of the race Marc started to go faster and faster so it was impossible to win. I'm disappointed to not finish second, because in normal conditions without the drop in rear tyre this would have been possible. I'm happy to be back on the podium at a track that's not normally a good one for us. I don't feel perfect, I feel more tired than normal because I haven't trained so much in the last two months because of the injuries. I felt tired at the end of the race and had some pain in the braking areas but I feel much better and in Brno and Silverstone I will be ok. I think from this moment we can only be better and better."
Valentino Rossi - 4th
"At the end the race was not so bad, especially compared with yesterday and especially the second half. I could ride the bike in a good way and I could enjoy it. I did a very good lap time in the second half and had great battles with Bradl and Bautista, but especially with Cal on the last lap, that was very funny. Fourth place here is good considering this track is one of the worst for me and considering I started from ninth I am quite happy. We still have to work and understand why in the first laps I can't ride the bike and use the extra grip of the tire. In the second part when the tire slides I can enter the corner faster, I can go faster and I can make good lap times so we have to improve because the first three riders are very strong."
Wilco Zeelenberg - Yamaha Factory Racing Team Manager
"The Indianapolis race is finished and we have to be pleased with third. We hoped for second place because I think that was our pace but finally the tire dropped a lot on the end so we have to investigate what happened exactly. Anyway, to be back after injuries and be fighting again with Marc and Dani for victory is great, the first 20 laps especially looked very good. Jorge was riding well and the bike behaved quite good. I think the guys all did a good job so we just have to investigate the tire drop. We had the same last year, we lost ten seconds on Dani and this year five or six seconds in total on the race winner. We are improving at Indy, maybe next year we can win here."
Massimo Meregalli - Yamaha Factory Racing Team Director
"Even if we knew since the beginning that Indianapolis was going to be a tough race for us I have to congratulate the team as they have done a fantastic job. We led for part of the race, Jorge had a really good rhythm and he was able to get an important podium. For the Championship that was the target and the main goal. Also Valentino, even if he couldn't find the right set up, got the right balance of the bike and when the tire dropped he made an impressive come back. Third and fourth is a good result here and now we go back to some circuits in Europe where we can change the direction of the Championship in our favor."
Cal Crutchlow Fifth After Late Drama In Indianapolis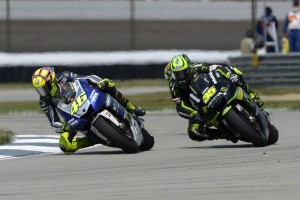 Monster Yamaha Tech 3 Team rider Cal Crutchlow ended an intriguing Indianapolis MotoGP race in fifth position this afternoon, the British rider playing a leading role in one of the most intense battles in the 27-lap clash.

Engaged in a frenetic fight for the majority of the race with Spaniard Alvaro Bautista, the tussle for fourth position became a three-way battle, with nine-times World Champion Valentino Rossi riding into contention with a brilliant late attack. All three treated a crowd of just over 60,000 fans to some breathless action, with the trio constantly exchanging overtakes before the exciting battle came right down to the final corner. Crutchlow had produced an outstanding final lap to keep Rossi and Bautista at bay and fourth position seemed to have been secured behind dominant Spanish trio Marc Marquez, Dani Pedrosa and Jorge Lorenzo. After 44 minutes of nail-biting action though there was still time for one final dramatic twist, with Rossi executing a last ditch overtake at the final corner to push Crutchlow back into fifth. Less than 0.2s split Rossi, Crutchlow and Bautista at the finish line and the crowd were on their feet to show their appreciation at witnessing such a fierce but fair fight.

Bradley Smith secured his seventh top 10 finish of the season, the British rider's race starting and finishing in tremendously exciting fashion. Smith got a stunning launch off the line and on the first lap he held fourth place before he slipped back into a fight with Andrea Dovizioso and Nicky Hayden for eighth. The 22-year-old exerted constant pressure on his more experienced counterparts and his determination and hard work was rewarded when Hayden and Dovizioso ran off track at the final corner. Smith pounced on the opportunity to win a drag race to the finish line and he claimed a hard fought eighth spot by the narrowest of margins over home crowd favorite Hayden. Smith's excellent performance also elevated him into the top 10 in the World Championship standings for the first time in his rookie campaign.

Cal Crutchlow - 5th
"I'm really pleased to finish the race in the top five and it means I am still the leading satellite bike in the Championship, which is an achievement to be proud of. It was a really good battle out there and I enjoyed it a lot. All of us were pushing at our absolute maximum and Alvaro rode fantastic. Credit to Valentino as well because he recovered quite a lot of time and it is not easy to do that towards the end of the race. I knew it was going to come down to the last lap and probably the last corner and I did my best to keep fourth. But unfortunately Valentino made a good move up the inside of the right before the last corner and I couldn't get him back. I had a lot of fun though I think the three of us gave the American fans something to cheer. I've only lost two points to Valentino in the Championship on a track I don't like at all. I was strong all weekend, so that gives me a lot of confidence for the next races in Brno and Silverstone where I was very competitive at last season."
Bradley Smith - 8th
"I think eighth position was more or less what we had predicted for the race, but we did not expect to be so far behind the winner. The race was very exciting and I got an amazing start but pretty much right from the first lap I felt we had an issue with the rear end of the bike. I tried to maintain my pace but unfortunately I ran off in at Turn 6 and a few guys passed me. I tried to recover again but the rear problem was getting worse and at the end of the race I could only try to pass the Ducatis. I was a bit lucky that they ran wide in the last corner, so I could pass both on the final straight. Eighth is not a bad result but I'm a little bit disappointed because we did a really good job during the whole weekend and I was very confident for the race. Now I just hope I can carry the good performances from practice and qualifying into Brno."
Source: www.yamaha-racing.com