Yamaha Returns To USA For Indianapolis GP
Chaparral Motorsports
|
August 15, 2013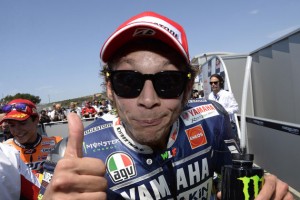 As the MotoGP summer break comes to an end, Yamaha Factory Racing heads back across the Atlantic to the USA for the third American round of the season this weekend, the Indianapolis Grand Prix.

The break has been a short one for the Team with an early return to work for a private test at the Brno circuit last week. The test was a successful one with another step being made in the set up of the Yamaha YZR-M1 that should help both Jorge Lorenzo and Valentino Rossi as they challenge the remainder of the season.

The Indianapolis Grand Prix is a relative newcomer to the MotoGP calendar with the first sportbike race in 2008. Both Lorenzo and Rossi can claim one premier class victory each at the US circuit, Rossi's in 2008 and Lorenzo's one year later in 2009. With the exception of a fourth place finish in 2011, reigning World Champion Lorenzo has always finished on the podium. The Mallorcan has been training hard but is still not expected to be at 100% fitness for the weekend.

Jorge Lorenzo:
"We are returning to the USA and beginning the second half of the year, which may be the toughest. I was able to rest for some days after Laguna Seca and then we went to Brno to make a private test with Yamaha. Those two days gave me an opportunity to check my physical condition. I'm a bit tired, especially because after two crashes in Assen and Sachsenring I couldn't recover so much and now we have to manage a long period with three races in a row. I feel better obviously than in Laguna but still need time to recover to 100% and it is not going to be easy because the calendar is so busy and also we have to fight not to lose points. In any case, we go to Indy to give everything despite the circumstances."
Valentino Rossi:
"I have great memories of Indianapolis and I'm happy to be back there on my M1, although that's not one of my favorite tracks. I needed these holidays to recharge my batteries, even if we had two days of testing right in the middle. Indianapolis will be the first one of three consecutive races and it will be very important to do good results everywhere. My Team and I still have much work to do on the M1 therefore they will be three very demanding weeks but we feel ready for the challenge."
Wilco Zeelenberg - Yamaha Factory Racing Team Manager:
"We were able to enjoy a little break but not so much because we did a mini test at Brno to check some issues. The test was not so bad, first because both riders were happy with the results and secondly, from our side, Jorge did a good job. The first day he struggled a bit to find the rhythm but on the second day he improved a lot and was able to get the pace. This test was really important for Jorge to check his fitness after a tough month where he had managed two serious injuries in the collarbone with two surgeries in ten days. Jorge has got more confidence after the test and now we travel back to the USA with positive feelings. The track is not one of Yamaha's favourites but we hope all the work we made in either Motorland and Brno will be useful to fight in the second part of the season."
Massimo Meregalli - Yamaha Factory Racing Team Director:
"I think we are going to Indy in a good shape. After the test in Brno we made another improvement with the base set up which was very positive. In the past we have suffered at Indy but I think this year is going to be different. Both riders made a good test so we are really optimistic. Jorge is not 100% but he is feeling much better now so he can compete with the others in a good shape. We are really looking forward to getting on track on Friday and starting the first practice."
Source: www.yamaha-racing.com