Weekend Warrior: Suzuki KingQuad 750AXi
Chaparral Motorsports
|
July 28, 2013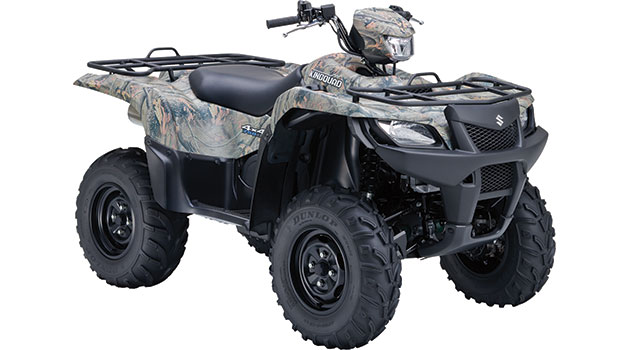 Take A Ride On The Suzuki KingQuad 750AXi
The recent influx of ATVs with camouflage designs got me thinking of my favorite military-inspired machines. Without a doubt, one of the rides at the top of my list is the Suzuki KingQuad 750AXi, which has been a worthwhile investment for fans of all-terrain vehicles over the past several years. A few special editions of this ATV are outfitted with Realtree Hardwoods HD Enhanced camouflage bodywork, bringing an aspect of military toughness to the exterior - matching the high power, heavy-duty style of what's under the hood.

Engine And Chassis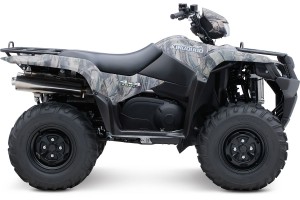 The liquid-cooled, four-stroke engine sits at the heart of the Suzuki ATV. With a displacement of 722cc, you can get plenty of power and low- to mid-range torque, all while reaping the benefits of a top-of-the-line fuel injection system. This provides quick responses to the throttle and a fast start-up time. It's also been rubber-mounted to limit vibrations and keep the entire ride smooth.

A special Continuously Variable Transmission works with the motor to ensure riders have the most versatility possible, all without having to expend too much energy. Its torque-sensing system helps control the traction and four-wheel drive. If you prefer to have that power in your own hands, the handlebar-mounted buttons allow you to choose between the different drive types and select the one that's the best fit for your situation.

Another thing that contributes to the excellent handling is the machine's steel frame. It was obviously created with balance and rigidity in mind, and you can have a comfortable ride because of it. A T-shaped seat with plenty of thick padding is an added bonus for riders who appreciate comfort when on their ATV.

Final Thoughts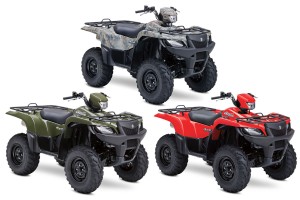 Any machine that's been built with inspiration from the military needs to be tough enough to handle anything. Thanks to a few key features on the 2011 Suzuki KingQuad 750AXi, riders will be able to conquer all kinds of terrain. One element that immediately springs to mind is power steering. You'll find it's easy to maneuver in most situations, and with above-average brakes, you can stop on a dime as well. When you add the LCD display and halogen headlights to the mix, you'll be ready to head out and attack the trails.

Whether you're riding for recreational purposes or trying to haul a heavy load, an offering from the Suzuki KingQuad 750AXi lineup of machines is more than capable of meeting your needs.

Suzuki KingQuad 750AXi Image Gallery
(Click for full size images)