2013 AMA Pro Road Racing Laguna Seca Results
Chaparral Motorsports
|
July 22, 2013
Josh Hayes Earns Spectacular AMA Pro National Guard SuperBike Victory At The Red Bull U.S. Grand Prix
[caption id="attachment_27651" align="alignright" width="300"]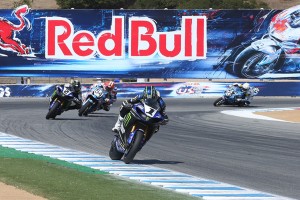 Josh Hayes registered a masterful ride en route to his 39th career premier-class triumph - Photo: Brian J. Nelson[/caption]

Immediately following the conclusion of the MotoGP World Championship contest at Mazda Raceway Laguna Seca, the massive crowd in attendance at the Red Bull U.S. Grand Prix witnessed the performance another world class rider at the peak of his powers.

Three-time AMA Pro National Guard SuperBike king Josh Hayes registered a masterful ride to conclude this weekend's GEICO Motorcycle AMA Pro Road Racing activities en route to his 39th career premier-class triumph.

Hayes made an aggressive start off the line and put his head down over the race's opening laps to immediately crush any hope his rivals may have had of shadowing him for the entire 23-lap race.

The Monster Energy Graves Yamaha superstar made a clean break and, after logging a host of flawless laps, ultimately assembled a 7.829-second gap at the checkered flag that brought a merciful end to the reigning champion's one-sided victory.

[caption id="attachment_27668" align="alignleft" width="300"]
Josh Herrin trailed his teammate, coming in second - Photo: Brian J. Nelson[/caption]

After solidifying his hard-earned championship advantage, Hayes said, "It's not how I expected the race would play out but I'm glad. My idea of the race was it would be more similar to Ohio where the guys would be there for half the race and then the second half I would have a little more pace than them.

"The race actually came to me better than any session all weekend. Things clicked well, the laps times came pretty easily, and I didn't make any mistakes. It was a really smooth race for me, and I'm glad that it finally kind of came around for the race; I feel like I've been working hard all weekend and in the race things came a little more naturally."

While he seemingly needed little assistance on this day, the efforts of his teammate Monster Energy Graves Yamaha teammate, Josh Herrin, helped to ease Hayes' escape. Herrin maneuvered in front of National Guard Jordan Suzuki's Roger Hayden at the start, and corralled the Kentuckian behind him for several crucial laps as Hayes stretched open his early gap.

Hayden had looked to be Hayes' primary concern this weekend, outpacing him on Friday and then pushing him throughout the remainder of the lead-up to the race. However, by the time Hayden found a way past Herrin on lap 8, Hayes had already built up more than five seconds worth of padding.

[caption id="attachment_27667" align="alignright" width="300"]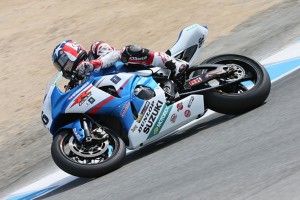 Martin Cardenas fought hard for his third place podium - Photo: Brian J. Nelson[/caption]

While Hayden managed to cut into Hayes' lead ever so slightly once he had some clear track in front of him, the former Supersport champion's recent string of poor luck struck yet again. Hayden was forced out of the race on lap 12 with a mechanical issue, making it three consecutive races in which he flashed the outright pace to race for the win but ultimately came away with a disappointing result.

Yoshimura Suzuki's Martin Cardenas followed Hayden past Herrin but made a mistake running through the Corkscrew on lap 11, allowing Herrin back past. From that point on, Herrin held strong, successfully fending Cardenas to the stripe.

Runner-up Herrin remarked, "My plan from the beginning was to stick behind Josh from lap 1 but it didn't work out so well. I know why -- on the warm-up lap he always goes from the line like it's the start of the race and gets the pace going and gets used to it. I just wasn't ready when the flagged dropped. I got a good start but he was gone the first couple of laps.

"The battle with Rog and Martin was good. I'm not sure what happened to Roger -- bummer that he wasn't there. All the work I've been putting in... the last two laps when I decided I needed to put it down so (Cardenas) didn't pass me somewhere, I was able to do so easily. I think if we could have kept up with Josh at the beginning like we normally do, it would have been a tight race, but I just wasn't able to keep up with him."

[caption id="attachment_27666" align="alignleft" width="300"]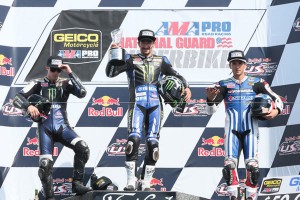 2013 AMA SuperBike Laguna Seca Winner's Podium - Photo: Brian J. Nelson[/caption]

Cardenas came home third, his eighth podium finish in nine races since joining the Yoshimura squad.

The Colombian said, "It was a very tough race. I gave everything I had on all the laps. I got a little help to get on the podium because Roger had a mechanical and he was faster than me today. But I gave everything that I had. I had not the grip I wanted on the rear and was sliding all the race. I was hoping to get second position at the end but I didn't quite have a good enough last lap and wasn't close enough to make an attack on Herrin. I had to settle for third place. A podium is a good position but it's not the result we are chasing. It's a good result, and I'm happy. We'll keep trying at Miller and the next few races and hopefully it will come."

Several battles for position from fourth through tenth materialized and evaporated as the race took shape. A big train consisting of Jordan Suzuki's Danny Eslick, KTM/HMC Racing teammates Chris Fillmore and Taylor Knapp, Foremost Insurance Pegram Racing's Larry Pegram, and Erik Buell Racing teammates, Geoff May and Aaron Yates eventually broke down into multiple two and three-rider scraps.

Knapp showed his best form of the season, slicing past Pegram and Fillmore and closing down on Eslick, before his race came to an early end with a crash on lap 16.

[caption id="attachment_27664" align="alignright" width="300"]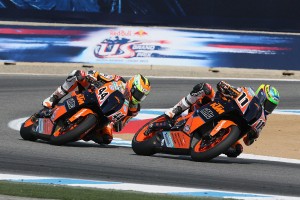 Chris Fillmore and Taylor Knapp at 2013 AMA SuperBike Laguna Seca - Photo: Brian J. Nelson[/caption]

Eventual fifth-place finisher Fillmore too challenged Eslick before the Oklahoman stretched out a bit of distance late to lock down fourth.

Team Hero EBR's May slashed his way up from tenth to claim sixth, just holding off Team AMSOIL/Hero teammate Yates on the final lap, while Pegram faded to eighth.

The misfortune of Hayden and Knapp meant that the dogfight waged by Motosport.com/EBR II's Cory West and Motosport.com Motul Fly Racing's David Anthony was elevated to a top-ten tussle. West out-dueled Anthony in the end to claim ninth.

Defending champion Hayes will carry an 11-point advantage over second-ranked Herrin (223-212) into Miller Motorsports Park, in Tooele, UT when the series arrives on August 2-4 for Round 6 of the 2013 AMA Pro National Guard season.

AMA Pro GoPro Daytona SportBike

[caption id="attachment_27659" align="alignright" width="300"]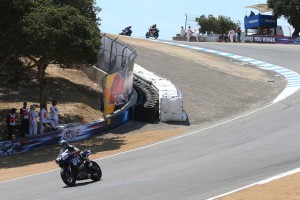 Cameron Beaubier won his seventh AMA Pro GoPro Daytona SportBike race of the year - Photo: Brian J. Nelson[/caption]

Cameron Beaubier won his seventh AMA Pro GoPro Daytona SportBike race of the year on Sunday at Mazda Raceway Laguna Seca, taking the win over teammate Garrett Gerloff and RoadRace Factory/Red Bull's Jake Gagne in a red-flagged race shortened to 14 laps.

Beaubier took the win by 2.955 seconds, having led before the red flag flew as the race approached halfway. On the restart, he was able to get out in front and avoid the entertaining battle behind him to lock up yet another race. Beaubier matched his 2012 total of seven GoPro Daytona SportBike contests with the spectacular victory.

"I kind of slacked on the first start and I went back to fifth," said Beaubier of the opening laps. "I was on the outside of (Jason) DiSalvo, and he ran a little wide. I finally made my way up to the front, put my head down, and pulled a little gap and then I saw the red flag. I thought, 'Oh man, it's going to be a bummer if we have to restart.' So, I just made sure I got a really good start on the restart and just put my head down. I knew Jake and Garrett were going to be right there. I have to give it up to my whole Yamaha Extended Service/Monster Energy/Graves Yamaha crew. They've been working so hard and giving us awesome bikes."

Gerloff returned to the podium for the first time since his second-place finish at Daytona. His race saw him dicing with Latus Motors Racing's Jason DiSalvo for second, with Gagne just behind. With three to go, Gerloff made his move into second and was able to hold it to the flag to culminate arguably his best weekend yet on the GoPro Daytona SportBike.

[caption id="attachment_27656" align="alignleft" width="300"]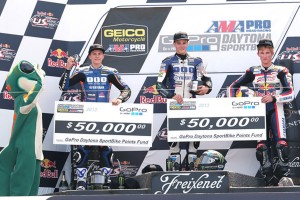 2013 AMA Daytona SportBike Laguna Seca Winner's Podium - Photo: Brian J. Nelson[/caption]

Gagne led much of the race before the red flag but had to scramble to finish third after a poor restart. Gagne was in the second half of the top ten but made some smart moves, culminating with a pass of DiSalvo entering the Corkscrew, to earn his seventh podium result of the year.

DiSalvo's fourth was his best result since Barber Motorsports Park. The Triumph pilot was especially aggressive in the early laps once again.

RoadRace Factory/Red Bull's JD Beach backed up his Mid-Ohio podiums with fifth at one of his least favorite circuits, so it was a favorable result for the Kentucky resident. He topped Jake Lewis of Meen Motorsports by 2.172 seconds.

Dane Westby of GEICO Motorcycle Road Racing took seventh on his Honda.

James Rispoli (National Guard/Celtic Racing), Bobby Fong (D&D Cycles/Castrol/Triumph), and Joey Pascarella (Riders Discount Racing Triumph) rounded out the top ten.

TV Broadcasts
Sunday's GEICO Motorcycle AMA Pro Road Racing finals from Mazda Raceway Laguna Seca will be aired in a set of tape-delayed broadcasts on CBS Sports Network.

Flag-to-flag coverage of the AMA Pro National Guard SuperBike and AMA Pro GoPro Daytona SportBike races scheduled for Sunday afternoon will be featured in one-hour broadcasts as part of the CBS Sports Spectacular. Television broadcast airdates and times will be released as soon as they are available.

Next Race
The 2013 GEICO Motorcycle AMA Pro Road Racing season will resume in two weeks' time as the series travels to Miller Motorsports Park in Tooele, Utah for Round 6 on August 2-4. For tickets and additional information, please visit .

Stay connected with GEICO Motorcycle AMA Pro Road Racing on social media at https://mobile.twitter.com/AMAProSBK and http://www.facebook.com/AMAProRoadRacing.

About GEICO Motorcycle AMA Pro Road Racing:
GEICO Motorcycle AMA Pro Road Racing is the premier motorcycle road racing series in North America and is universally regarded as one of the most competitive road racing organizations in the world. The 2013 schedule consists of nine rounds of competition on the country's finest road courses. The Series is comprised of four production-based classes: AMA Pro National Guard SuperBike, AMA Pro GoPro Daytona SportBike, AMA Pro Motorcycle-Superstore.com SuperSport and the AMA Pro Vance & Hines Harley-Davidson Series. Learn more about GEICO Motorcycle AMA Pro Road Racing at www.amaproracing.com/rr/.
Source: AMA Pro Racing

Youngster Joe Roberts Scores Again In SuperSport
[caption id="attachment_27655" align="alignright" width="300"]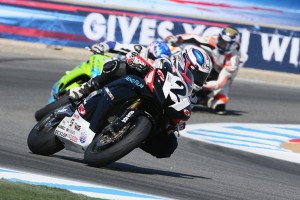 Joe Roberts stormed to a win during the Red Bull U.S. Grand Prix.[/caption]

Joe Roberts is fast becoming a terror on the AMA Pro SuperSport series. Roberts, 16, scored his third victory in the class Saturday, storming to a win during the Red Bull U.S. Grand Prix at Mazda Raceway Laguna Seca.

"It's been like a dream come true coming back to Laguna and winning," Roberts said. "I've always wanted to come here and ride, to come here and win."

Roberts, aboard his California Superbike School/RoadRacingWorld.com Honda, held off points leader Tomas Puerta and Corey Alexander to score the victory.

"It was a really, really good race," Roberts said. "I thought I'd be able to pull away and do something like I did at Barber, but these guys were really quick this weekend. It was a hard race, for sure. I put my head down."

[caption id="attachment_27654" align="alignleft" width="300"]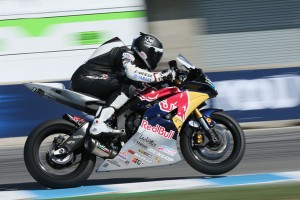 Tomas Puerta finished 2nd in the AMA SuperSport race - Photo: Brian J. Nelson[/caption]

Roberts held the lead during the 16-lap race but made a mistake in Laguna Seca's Turn 1 on Lap 9 to allow Puerta and Alexander to slip past. But Roberts didn't give up, slicing back through the top two to retake the lead.

"I made a little mistake in Turn 1 and ran wide, and Corey Alexander and Tomas Puerta went by me," Roberts said. "I had to make some aggressive passes to get back to the front, but I did it right away. It was a lot of fun."

On the final lap, Roberts was ready for the move Puerta made.

"It was crazy on the last lap because I knew Puerta was going to try and make a move on the last corner," Roberts said, "so as soon as I saw his bike, I knew he was going to run wide because I broke really late. So if I broke really late, he broke even later. Then I just got the drive and went by him."

[caption id="attachment_27653" align="alignright" width="300"]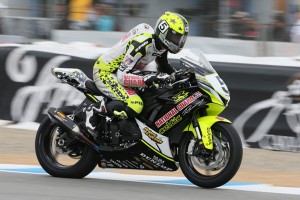 Corey Alexander fought with the top contenders and settled for third - Photo: Brian J. Nelson[/caption]

Puerta, who finished .117-second behind Roberts, started from the pole on his RoadRace Factory Yamaha.

"It was a really fun race," Puerta said. "We were almost there on the last lap. I was trying to pass, and it didn't work. I was trying to keep my head up and hopefully hit our window."

Alexander figured the dicing up front would give him an opening on the last lap, but he came across the finish line in third place on his National Guard Celtic Racing Suzuki.

"They rode an amazing race and there was a lot of passing going on," Alexander said. "I was kind of banking on something happening in the last turn, and I thought I'd get a good enough drive off the turn to pass on the straightaway."

Source: AMA Pro Racing

Chris Fillmore Earns 5th At Laguna Seca AMA Pro SuperBike Race
[caption id="attachment_27665" align="alignright" width="300"]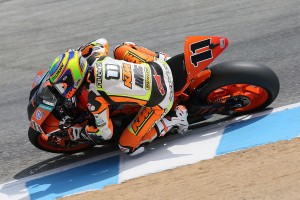 Chris Fillmore earned 5th overall at the fifth round of the AMA Pro SuperBike race held at Mazda Raceway Laguna Seca - Photo: Brian J. Nelson[/caption]

KTM/HMC Factory rider Chris Fillmore earned 5th overall at the fifth round of the AMA Pro SuperBike race held at Mazda Raceway Laguna Seca. His teammate, Taylor Knapp, was having his best race of the series holding down 6th position before a crash took him out of the race.

Chris Fillmore and Taylor Knapp both had decent qualifying times with Knapp qualifying 7th and Fillmore 8th overall. When the race began, both riders started in their positions and held those spots for the first five laps. On lap five, Fillmore was able to make a pass on both Knapp and Larry Pegram to move into 6th position. Knapp capitalized on that momentum and also passed Pegram.

The two KTM riders continued to push each other in a friendly battle throughout the next six laps swapping the 6th place position. On lap thirteen both riders moved up one position after a top five rider went down. While running in 6th place, Knapp suffered a crash on lap sixteen and did not finish the race. Luckily, he was okay and was credited with 18th place.

[caption id="attachment_27660" align="alignleft" width="300"]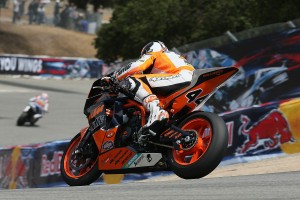 Taylor Knapp raced well until he was forced to withdraw - Photo: Brian J. Nelson[/caption]

"Our team made a lot of progress this week," stated Knapp after the race. "Both Chris and I qualified with good times and were holding our fastest pace this season before my crash. I am bummed about my crash but happy with the position I was in and the progress our team has made so far this season."

Meanwhile, Fillmore continued to charge forward in his 5th place position, closing the gap on the 4th place ride of Danny Eslick. With five laps to go, Fillmore was able to make a pass on Eslick for the 4th place position. Eslick charged back and the two riders battled side by side before encountering a lapper. Unfortunately, Eslick got around the lapper while Fillmore got pinched off.

Fillmore remarked: "After I got cut off by the lapper, I lost about half a second on Eslick but was still within striking distance. Then I made a small mistake and almost wrecked. I figured at that point that I would back down a touch and hold on to finish 5th. My team and I are really happy with a top five result here at Laguna Seca."

Next Round: August 2-4, 2013 - Miller Motorsports Park

Source: KTM North America

AMSOIL EBR Teammates Turn In Another Consistent SuperBike Effort
[caption id="attachment_27661" align="alignright" width="200"]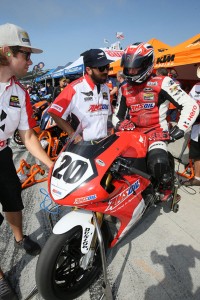 Aaron Yates did some tinkering with the setup in the morning before the race to great effect.[/caption]

For the third straight race, AMSOIL EBR teammates Geoff May and Aaron Yates finished in sequence at a National Guard SuperBike race in the GEICO Motorcycle AMA Pro Road Racing Series.

After finishing back-to-back at both races last weekend in Mid-Ohio, May (sixth) and Yates (seventh) did it again on Sunday during the Red Bull U.S. Grand Prix at Mazda Raceway Laguna Seca.

May knew the Team Hero/AMSOIL EBR would have a tough task after struggling during qualifying, but some due diligence during Sunday morning's practice paid dividends.

"I knew it was going to be a tough one starting from 11th on the grid," May said. "I made the best of it by picking my way through the field. I got a little lucky from some attrition from some other guys. I feel like if I could have qualified better, I could have run up there with Danny (Eslick) and (Chris) Fillmore.

[caption id="attachment_27663" align="alignleft" width="300"]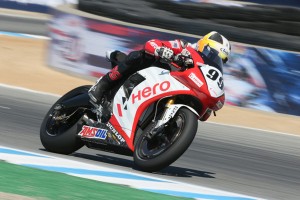 Geoff May finished 6th overall, just ahead of his teammate.[/caption]

"We had the pace to run with those guys up front. We found something this morning and it paid off. We maximized our time in the fog to solidify our race setup."

Yates' AMSOIL/Hero EBR team also did some tinkering with the setup in the morning before the race.

"We tried some stuff trying to get up to speed, so for the race we gambled on a setup," Yates said. "We had a great-handling bike, but I just got stuck behind Larry (Pegram) there. I couldn't accelerate quick enough to get by him in the straightaways."

Being so evenly matched with Pegram, Yates had to abandon trying to be the aggressor and settled into ambush mode instead.

[caption id="attachment_27662" align="alignright" width="300"]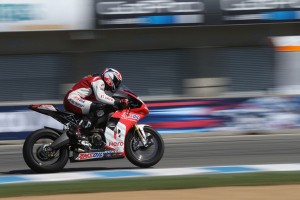 Aaron Yates rode hard to catch his teammate, but had to settle for 7th - Photo: Brian J. Nelson[/caption]

"I was waiting and waiting for him to make a mistake, which he finally did in Turn 2 right after Geoff got by him," Yates said. "I got past, then I was determined to catch my teammate.

"I pushed as hard as I could. I got hung up by a couple of lappers, but I was able to close that gap and end pretty close to Geoff."

Yates is going to stay on the West Coast a few extra days to test with the team ahead of the next race on the GEICO Motorcycle AMA Pro Road Racing schedule.

"Hopefully we can find a little more power for this thing and take it on to the next race," Yates said. "The bike is working well. I can launch it on the starts, and it's handling really well in the corners. Now we're trying to find a little more speed, which will help us make another big step."

Up next for the AMSOIL EBR racers is the Aug. 2-4 Miller Motorsports Park doubleheader in Tooele, Utah.

Source: Gieger Media

Red Bull U.S. Grand Prix Overview And Point Standings
2013 AMA Pro Road Racing Laguna Seca Image Gallery (Click for full size images)


AMA Pro SuperBike Class Race Results - Race Time: 32:53.856












































































































































































































| Pos. | # | Rider | Bike | Interval | Best Lap | Points |
| --- | --- | --- | --- | --- | --- | --- |
| 1 | 1 | Josh Hayes | Yamaha R1 | 23 Laps | 1:24.503 | 32 |
| 2 | 2 | Josh Herrin | Yamaha R1 | 7.829 | 1:24.882 | 25 |
| 3 | 36 | Martin Cardenas | Suzuki GSX-R1000 | 8.982 | 1:25.020 | 21 |
| 4 | 23 | Danny Eslick | Suzuki GSX-R1000 | 30.848 | 1:26.559 | 18 |
| 5 | 11 | Chris Fillmore | KTM RC8R | 33.614 | 1:26.353 | 16 |
| 6 | 99 | Geoff May | EBR 1190RS | 39.514 | 1:26.493 | 15 |
| 7 | 20 | Aaron Yates | EBR 1190RS | 39.961 | 1:26.512 | 14 |
| 8 | 72 | Larry Pegram | Yamaha R1 | 48.252 | 1:26.577 | 13 |
| 9 | 13 | Cory West | EBR 1190RS | 51.223 | 1:27.154 | 12 |
| 10 | 25 | David Anthony | Suzuki GSX-R1000 | 52.329 | 1:27.153 | 11 |
| 11 | 6 | Chris Clark | Suzuki GSX-R1000 | 1:13.558 | 1:27.988 | 10 |
| 12 | 18 | Chris Ulrich | Honda CBR1000RR | 1:15.682 | 1:27.924 | 9 |
| 13 | 68 | Dustin Dominguez | EBR 1190RS | 22 Laps | 1:28.703 | 8 |
| 14 | 78 | Reese Wacker | Suzuki GSX-R1000 | 0.001 | 1:28.831 | 7 |
| 15 | 95 | Mathew Orange | BMW S1000RR | 40.378 | 1:30.713 | 6 |
| 16 | 123 | Jacquel Gonzalez | Kawasaki ZX-10 | 41.189 | 1:30.186 | 5 |
| 17 | 269 | Johnny Rock Page | Suzuki GSX-R1000 | 45.526 | 1:30.928 | 4 |
| 18 | 44 | Taylor Knapp | KTM RC8R | 15 Laps | 1:26.429 | 3 |
| 19 | 88 | Robertino Pietri | Kawasaki ZX-10 | 12 Laps | 1:27.105 | 2 |
| 20 | 54 | Roger Hayden | Suzuki GSX-R1000 | 11 Laps | 1:24.884 | 1 |
| 21 | 312 | Aaron Ascher | Kawasaki ZX-10 | 8 Laps | 1:31.585 | 0 |
Rider Point Standings - SuperBike Class ( Race 9 of 15 )


Martin Cardenas - 144

Josh Hayes - 223

Josh Herrin - 212

Martin Cardenas - 207

Danny Eslick - 148

Roger Hayden - 134

Larry Pegram - 131

Chris Fillmore - 123

Geoff May - 107

Aaron Yates - 98

David Anthony - 96

AMA Pro Daytona SportBike Class Race Results - Race Time: 22:23.770
| Pos. | # | Rider | Bike | Interval | Best Lap | Points |
| --- | --- | --- | --- | --- | --- | --- |
| 1 | 6 | Cameron Beaubier | Yamaha YZF-R6 | 14 Laps | 1:26.953 | 32 |
| 2 | 8 | Garrett Gerloff | Yamaha YZF-R6 | 2.955 | 1:27.550 | 25 |
| 3 | 32 | Jake Gagne | Yamaha YZF-R6 | 3.942 | 1:27.716 | 21 |
| 4 | 40 | Jason DiSalvo | Triumph Daytona 675 | 4.415 | 1:28.126 | 18 |
| 5 | 95 | JD Beach | Yamaha YZF-R6 | 4.752 | 1:28.073 | 16 |
| 6 | 85 | Jake Lewis | Yamaha YZF-R6 | 6.924 | 1:28.050 | 15 |
| 7 | 5 | Dane Westby | Honda CBR600RR | 8.355 | 1:28.314 | 14 |
| 8 | 43 | James Rispoli | Suzuki GSX-R600 | 9.457 | 1:28.590 | 13 |
| 9 | 50 | Bobby Fong | Triumph Daytona 675 | 13.694 | 1:28.245 | 12 |
| 10 | 52 | Joey Pascarella | Triumph Daytona 675 | 15.409 | 1:30.172 | 11 |
| 11 | 7 | Fernando Amantini | Yamaha YZF-R6 | 16.054 | 1:30.032 | 10 |
| 12 | 42 | Kenny Riedmann | Triumph Daytona 675 | 16.334 | 1:30.050 | 9 |
| 13 | 3 | Benny Solis | Honda CBR600RR | 17.420 | 1:30.119 | 8 |
| 14 | 118 | Nahun Alvarez | Kawasaki ZX-6R | 20.845 | 1:31.227 | 7 |
| 15 | 74 | Bostjan Skubic | Yamaha YZF-R6 | 21.840 | 1:31.300 | 6 |
| 16 | 174 | Bryce Prince | Yamaha YZF-R6 | 25.879 | 1:31.497 | 5 |
| 17 | 13 | Melissa Paris | Honda CBR600RR | 28.263 | 1:32.607 | 4 |
| 18 | 27 | Chris Duran | Yamaha YZF-R6 | 28.776 | 1:32.417 | 3 |
| 19 | 12 | Roi Holster | Yamaha YZF-R6 | 38.869 | 1:33.900 | 2 |
| 20 | 21 | Elena Myers | Triumph Daytona 675 | 9 Laps | 1:30.698 | 1 |
| 21 | 26 | Ted Rich | Yamaha YZF-R6 | 8 Laps | 1:34.064 | 0 |
| 22 | 98 | Jake Zemke | Kawasaki ZX-6R | 5 Laps | 1:31.398 | 0 |
Rider Point Standings - SportBike Class ( Race 8 of 14 )


Cameron Beaubier - 247

Jake Gagne - 191

JD Beach - 154

Garrett Gerloff - 149

James Rispoli - 114

Jake Lewis - 111

Dane Westby - 105

Jason DiSalvo - 90

Bobby Fong - 80

Benny Solis - 71

AMA Pro SuperSport Class Race Results - Race Time: 26:46.836
| Pos. | # | Rider | Bike | Interval | Best Lap | Points |
| --- | --- | --- | --- | --- | --- | --- |
| 1 | 2 | Joe Roberts | Honda CBR600RR | 16 Laps | 1:29.419 | 32 |
| 2 | 12 | Tomas Puerta | Yamaha YZF-R6 | 0.117 | 1:29.370 | 25 |
| 3 | 5 | Corey Alexander | Suzuki GSX-R600 | 0.294 | 1:29.158 | 21 |
| 4 | 91 | Jeffrey Tigert | Yamaha YZF-R6 | 6.845 | 1:29.360 | 18 |
| 5 | 37 | Stefano Mesa | Yamaha YZF-R6 | 6.911 | 1:29.732 | 16 |
| 6 | 73 | Sebastiao Ferreira | Yamaha YZF-R6 | 6.940 | 1:29.991 | 15 |
| 7 | 9 | Wyatt Farris | Yamaha YZF-R6 | 8.379 | 1:30.237 | 14 |
| 8 | 13 | Charles Weaver | Yamaha YZF-R6 | 9.225 | 1:30.255 | 13 |
| 9 | 122 | Ryan Matter | Yamaha YZF-R6 | 9.489 | 1:30.104 | 12 |
| 10 | 231 | Cameron Gish | Yamaha YZF-R6 | 14.419 | 1:30.589 | 11 |
| 11 | 63 | Devon McDonough | Yamaha YZF-R6 | 20.955 | 1:31.072 | 10 |
| 12 | 75 | Brandon Cleland | Triumph Daytona 675 | 21.243 | 1:31.672 | 9 |
| 13 | 162 | Andrew DiBrino | Yamaha YZF-R6 | 23.082 | 1:31.780 | 8 |
| 14 | 64 | Erick Sanchez | Yamaha YZF-R6 | 27.311 | 1:31.568 | 7 |
| 15 | 57 | Thomas G. Montano | Triumph Daytona 675 | 29.105 | 1:31.891 | 6 |
| 16 | 19 | Daytona Anderson | Yamaha YZF-R6 | 40.011 | 1:33.701 | 5 |
| 17 | 67 | Michael Pond | Yamaha YZF-R6 | 41.613 | 1:33.288 | 4 |
| 18 | 814 | Javelin Broderick | Yamaha YZF-R6 | 41.690 | 1:33.339 | 3 |
| 19 | 349 | Felipe MacLean | Yamaha YZF-R6 | 41.792 | 1:33.361 | 2 |
| 20 | 99 | Chad Swain | Yamaha YZF-R6 | 51.267 | 1:33.884 | 1 |
| 21 | 386 | Danielle Diaz | Suzuki GSX-R600 | 53.414 | 1:34.918 | 0 |
| 22 | 61 | JC Gibbs | Yamaha YZF-R6 | 53.849 | 1:34.524 | 0 |
| 23 | 195 | Jeremy Simmons | Yamaha YZF-R6 | 54.561 | 1:34.608 | 0 |
| 24 | 144 | Oscar Covarrubias | Kawasaki ZX-6R | 55.764 | 1:35.059 | 0 |
| 25 | 111 | Jorge Castro | Yamaha YZF-R6 | 1:02.856 | 1:35.290 | 0 |
| 26 | 113 | Ricky Brown | Yamaha YZF-R6 | 1:11.256 | 1:36.340 | 0 |
| 27 | 14 | Brian Rose | Suzuki GSX-R600 | 1:19.146 | 1:37.103 | 0 |
| 28 | 804 | Patricia Fernandez | Yamaha YZF-R6 | 1:25.991 | 1:36.853 | 0 |
| 29 | 131 | Bruce Bleecker | Yamaha YZF-R6 | 1:27.395 | 1:38.613 | 0 |
| 30 | 26 | Phil Horwitz | Yamaha YZF-R6 | 1:27.721 | 1:37.805 | 0 |
| 31 | 62 | Edmundo Duenez | Yamaha YZF-R6 | 15 Laps | 1:38.547 | 0 |
| 32 | 4 | Travis Ohge | Suzuki GSX-R600 | 7 Laps | 1:31.292 | 0 |
| 33 | 228 | Neill Herbert | Yamaha YZF-R6 | 24.208 | 1:33.743 | 0 |
Rider Point Standings - SuperSport East Class ( Race 8 of 10 )


Corey Alexander - 151

Hayden Gillim - 142

Stefano Mesa - 137

Miles Thornton - 110

Travis Wyman - 109

Conner Blevins - 80

Nick McFadden - 52

Devon McDonough - 50

Kaleb De Keyrel - 38

Mark Miller Jr. - 33

Rider Point Standings - SuperSport West Class ( Race 5 of 9 )


Tomas Puerta - 143

Jeffrey Tigert - 98

Sebastiao Ferreira - 81

Wyatt Farris - 66

Charles Weaver - 61

David Sadowski, Jr. - 56

Travis Ohge - 55

Joe Roberts - 53

Ryan Matter - 48

Cameron Gish - 27

AMA Pro Vance & Hines Harley-Davidson - No RacesRider Point Standings - Vance & Hines Harley-Davidson ( Race 4 of 9 )


Steve Rapp - 94

Michael Barnes - 79

Tyler O'Hara - 77

Travis Wyman - 73

Benjamin Carlson - 61

Barrett Long - 45

Shane Narbonne - 40

Nicholas Hansen - 40

Ricky Parker - 35

Josh Chisum - 33