MotoGP Preps For Eighth Round In Germany
Chaparral Motorsports
|
July 12, 2013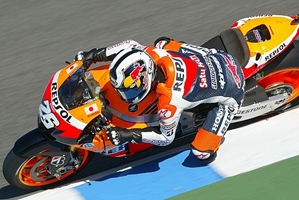 MotoGP is bringing the action to Germany this weekend, when the eighth round of the motorsports series will take place at the Sachsenring circuit. Known as an extremely technical track filled with abrasive tarmac and quick left-hand turns, Sachsenring is a locale where tires and bike setup will likely play a large role.

Although the circuit is a challenging one, it's also a place where Honda rider Dani Pedrosa has excelled in recent years, making him one of the favorites heading into the event.

"The German Grand Prix is an important race on the MotoGP calendar ..." said Hiroshi Yamada, manager of the Bridgestone Motorsport Department. "Dani [Pedrosa] has dominated this race recently, and he is just one of many riders who are in top form at the moment, so the signs are promising that we will see a closely-fought contest Sunday."

Pedrosa, who has won the German Grand Prix for the past three years, will be challenged by the most recent race winner Valentino Rossi, as well as rival Jorge Lorenzo. Lorenzo is still recovering from surgery on a broken collarbone but reports that he is making progress every day. The Yamaha rider finished fifth in the last race just a day after going under the knife, and now that he has had time to recover he may be primed to make a splash.