Harley-Davidson Puts Final Touches On Anniversary Celebration
Chaparral Motorsports
|
July 10, 2013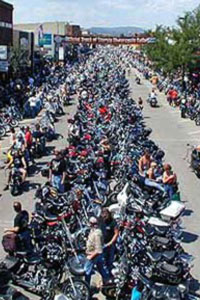 The main celebration of Harley-Davidson's 110th anniversary is just a few weeks away, and motorcyclists around the U.S. are making arrangements to attend what is sure to be an impressive party. Slated to take up much of Labor Day weekend, from Aug. 29 to 31, the festivities include concerts, a UFC fight and of course, plenty of motorcycle-centric events.

"When we have fun, we go full throttle," said Mark-Hans Richer, Harley-Davidson's chief marketing officer. "We know there are other music festivals and motorcycle rallies, but our 110th in Milwaukee will be an epic bash. You won't want to miss it. It only happens once every five years ... This isn't just a party - it will be the party of the year."

Entertainers scheduled to perform as part of the three-day affair include Toby Keith, Kid Rock and Aerosmith. Each of the acts will be joined by a few openers, so fans will also be treated to sets from Kip Moore, Uncle Kracker and John Fogarty of Creedence Clearwater Revival.

While the entire celebration will last for several days, Harley-Davidson introduced several ticketing options for motorsports fans who want to attend the event but can't devote all of their time to it. Two-day tickets are the newest addition, and three-day passes will continue to be available.