Jorge Lorenzo Takes The Win At The Catalunya MotoGP
Chaparral Motorsports
|
June 17, 2013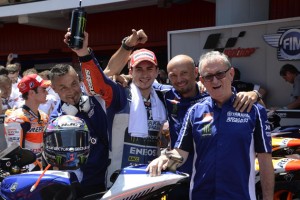 Jorge Lorenzo
returned to the top of the podium with a win at the Catalunya MotoGP in Spain over the past weekend. The Yamaha rider got off to a hot start and never looked back, immediately working his way to the front of the pack and hanging on to the lead for the duration of the race. He successfully staved off rival Dani Pedrosa for his third win of the season.

"A perfect day - to be honest, I didn't expect to win; I knew I had some chance, but not like in Mugello where I was more convinced we could get the victory," Lorenzo said. "It was really difficult physically as it was the hottest race of the year. I kept pushing 100 percent all race because any mistake would have been a disaster."

Through the sixth round of the motorsports series, only three riders have emerged as winners: Lorenzo, Pedrosa and Marc Marquez. These three are also tops in the overall standings, with Pedrosa leading Lorenzo by seven points, and rookie Marquez trailing the top two by 23 points.

The next round of MotoGP competition is set for June 28 in the Netherlands.