Johnson Valley Protection Effort Clears Major Hurdle
Chaparral Motorsports
|
June 15, 2013
Effort To Protect California's Johnson Valley Riding Area Clears Major Hurdle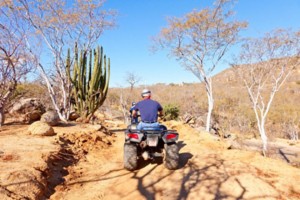 The National Defense Authorization Act, which includes language to create the Johnson Valley National Off-Highway Vehicle Recreation Area in California to protect it from a military takeover, has cleared the U.S. House, the American Motorcyclist Association reports.

On June 14, the House approved the authorization bill, H.R. 1960. The measure now goes to the Senate for further consideration.

The legislation includes language written by Rep. Paul Cook (R-Calif.) to protect Johnson Valley from a takeover by the U.S. Navy that would virtually end riding there. The Navy wants to expand the Marine Corps Air Ground Combat Center at Twentynine Palms into the 189,000-acre Johnson Valley area, which is a long-standing and popular area that is across the San Bernardino Mountains from Los Angeles.

"This legislation has cleared an important hurdle," Cook said when the proposal cleared a House committee earlier. "Support for it was overwhelmingly bipartisan. My concern has always been about public safety. The Johnson Valley is one of the few places left for off-highway vehicle recreation. This is a balanced approach which protects public safety while still allowing for recreational use."



Cook is a member of the House Armed Services and Veterans' Affairs Committees. He served as an infantry officer and retired after 26 years as a colonel in the U.S. Marine Corps. During his time in combat, he was awarded the Bronze Star and two Purple Hearts.

Several years ago, the U.S. Department of the Navy began the formal process to take over some 365,906 acres of public land near San Bernardino to use for live-fire training for the Marines.

Cook's proposal would designate Johnson Valley OHV as the Johnson Valley National OHV Recreation Area. The area would be designated specifically for recreational uses, including, but not limited to, OHV use, camping and hiking. Marine Corps activities would be allowed twice a year and couldn't include any explosives that could be left behind.

About the American Motorcyclist Association
Founded in 1924, the AMA is a not-for-profit member-based association whose mission is to promote the motorcycle lifestyle and protect the future of motorcycling. As the world's largest motorcycling rights and event sanctioning organization, the AMA advocates for riders' interests at all levels of government and sanctions thousands of competition and recreational events every year. The AMA also provides money-saving discounts on products and services for its members. Through the AMA Motorcycle Hall of Fame in Pickerington, Ohio, the AMA honors the heroes and heritage of motorcycling. For more information, visit www.americanmotorcyclist.com.