Motorcycle Maniac: 2013 Honda Shadow Phantom
Chaparral Motorsports
|
June 14, 2013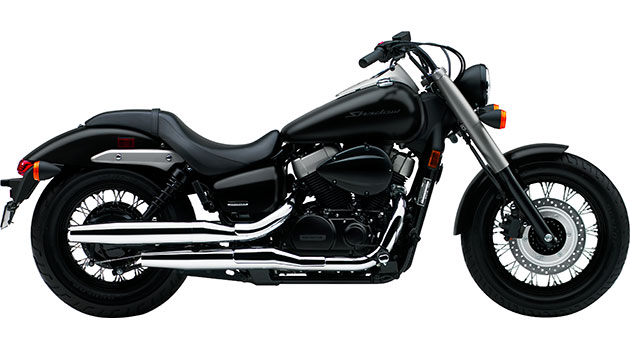 2013 Honda Shadow Phantom: Embrace The Dark Side
Honda is certainly making a mark with its most recent Shadow lineup. The manufacturer is rolling out several 2013 models of the bike, and the Shadow Phantom has already staked its claim as the one to keep an eye on among the selection.

[caption id="attachment_27029" align="alignright" width="200"]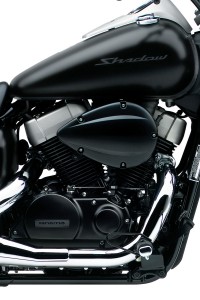 The centerpiece of the 2013 Honda Shadow Phantom is its motor - Photo: Mark McIntyre[/caption]

Engine And Chassis
The centerpiece of the 2013 Honda Shadow Phantom is its motor. With a displacement of 745cc, the liquid-cooled, V-Twin engine is capable of providing you with plenty of power for the open road. The four-stroke engine works seamlessly with the wide-ratio five-speed transmission and offers enough to torque to successfully maneuver in and out of any situation.

One of the best parts of the engine is that you won't have to put in a lot of maintenance to keep it in top shape. The blacked-out motor is relatively hassle-free, allowing you to enjoy the deep hum of the machine without so much as a second thought. Once you're riding the Shadow Phantom, you'll also notice the excellent suspension, which features a 41mm fork at the front and dual shocks in the rear.

Additional Features
The Shadow Phantom was undoubtedly made with comfort in mind. As soon as you sit on the machine, you'll notice how the low seat height, customized foot rests and angled handlebars come together to form a relaxed position that riders will appreciate. You won't have any trouble cruising down the open road for hours on the Honda motorcycle, especially with the help of the 4-gallon fuel tank that gets an average of 56 miles to the gallon. Special accessories like a backrest, saddlebags and custom rider seats are also available to outfit the machine for longer trips without sacrificing the unique style of the bike.

Final Thoughts - An Intense Style
[caption id="attachment_27031" align="alignright" width="300"]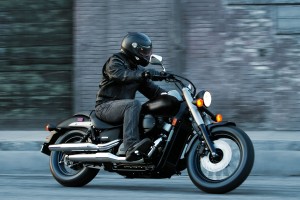 You won't have any trouble cruising down the open road for hours on the Honda motorcycle - Photo: Fran Kuhn[/caption]

As its name implies, the 2013 Honda Shadow Phantom rolls of the assembly line in a sleek and sophisticated dark black. The all-black engine, rims, frame and handlebar create a unique appearance that you won't be able to tear your eyes from, and the silver accents give you a complete and polished look that is reminiscent of the classic style of bikes.

The Shadow Phantom has a very minimal overall design. You won't find excessive details or decorations on the exterior of the machine - instead, your focus will be drawn to the superior riding experience and quality of the motorcycle.

2013 Honda Shadow Phantom Image Gallery
(Click for full size images)