2013 AMA Pro Road Racing Road America Results
Chaparral Motorsports
|
June 4, 2013
Josh Hayes Dominates With Five Consecutive Wins
[caption id="attachment_26716" align="alignright" width="200"]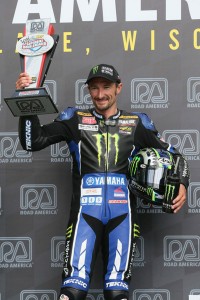 Josh Hayes won the pole and both Superbike races on his R1, setting a record of five consecutive victories at Road America - Photo: Brian J. Nelson[/caption]

The YZF-R1 and YZF-R6 dominated their respective AMA Superbike and Daytona Sportbike classes at Road America in Wisconsin over the June 1-2 weekend, winning both races on both days. Monster Graves Yamaha's Josh Hayes won the pole and both Superbike races on his R1, setting a record of five consecutive victories there. Meanwhile Y.E.S. Monster Graves' Cameron Beaubier and RoadRace Factory's Jake Gagne took a win apiece in Daytona Sportbike on their R6s. Impressively, R6s swept the top five Daytona Sportbike positions each day, while also earning four Supersport podiums. Yamaha's Josh Herrin is now second, Larry Pegram is third and Hayes is fourth in Superbike points, while Beaubier leads in Daytona Sportbike points. The action next heads to Birmingham, Ala. on June 21-23.

Hayes scrapped with rivals Martin Cardenas and Chris Clark in the opening laps before taking over control at one-third distance and then streaking to a 0.8-sec. lead at the flag. Together with his pole position, the victory gave Hayes maximum points for the weekend. "I was trying really hard and got really tight - my right arm is pretty worked!" he said.

Hayes is known as a pole-winning machine, and the R1 rider delivered again on Saturday, outpacing rival Martin Cardenas to win the top qualifying spot. In Superbike race one, he went to the front immediately and held onto the lead for all 13 laps, with teammate Josh Herrin riding in podium position for most of the race before slipping to sixth late in the contest.

On Sunday, Gagne turned the tables by capturing his first win of the year over Beaubier after a heated battle. And once again, just as happened on Saturday, the lead pack was all Yamaha YZF-R6, with Lewis, Beach and Gerloff following Gagne and Beaubier to the checkers. "It was a helluva race!" Gagne said.

"Congratulations to the Monster Energy Graves and Y.E.S. teams for a great weekend - particularly with Josh Hayes winning his fifth straight race at Road America," said roadracing team manager Tom Halverson. "Leaving here with second, third and fourth in Superbike points is fantastic - especially with Josh climbing from 18th place after Daytona toward the championship lead. And Josh Herrin also did a great job in race two, joining his teammate on the podium. Congrats also to Cameron Beaubier for his win and lead in Daytona Sportbike points, and to Jake Gagne and RoadRace Factory for their first win of the year."

In the ultra-competitive Daytona Sportbike class, the R6 was clearly the bike to beat. Beaubier controlled Saturday's race by breaking away to lead all 13 laps over Gagne - followed by J.D. Beach, Jake Lewis and Garrett Gerloff, who rounded out the top five aboard their own R6s. "My crew gave me a great bike today, and it feels great to win this race," Beaubier said.

Source: Yamaha Motor Corporation

Martin Cardenas Takes AMA SBK Series Lead
[caption id="attachment_26708" align="alignright" width="300"]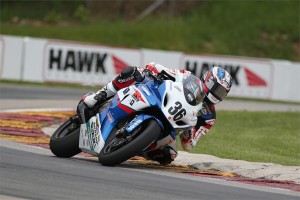 Martin Cardenas grabbed the 2013 AMA Pro Superbike Championship lead at the second round.[/caption]

Yoshimura Suzuki Factory Racing's Martin Cardenas grabbed the 2013 AMA Pro Superbike Championship lead at the weekend's second round at Road America in Elkhart Lake.

Cardenas raced his Yoshimura Suzuki GSX-R1000 to two spectacular podium finishes at the fast, flowing racetrack and was one of four Suzuki riders to finish in the top 10.

Cardenas started the weekend by qualifying second and picking-up a front-row starting position. In Saturday's race, he got off the line cleanly and turned fast, consistent laps to bring home second. On Sunday, he got an even better start on his Yoshimura Suzuki GSX-R1000 and took the holeshot, leading the field for several laps before eventually finishing second again.

Said Cardenas: "It was a good weekend. Sunday's race was better than Saturday. On Sunday, I got a really good start on the Yoshimura Suzuki GSX-R1000 and the first few laps were good, but I got passed and couldn't quite keep up. But toward the end of the race I got into a good rhythm and we got a little bit closer. The bike was working great and I'm happy with the results this weekend. Now I'm just looking forward to the next race at Barber."

[caption id="attachment_26706" align="alignleft" width="300"]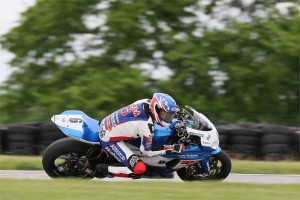 Chris Clark struggled with mechanical issues at Road America.[/caption]

Yoshimura Suzuki team-mate Chris Clark struggled at Road America: He suffered mechanical issues during qualifying and had off-track excursions in both races. Despite this, he still put-in the best effort possible, finishing 12th and 14th respectively in Saturday and Sunday's races.

"It was a bit of an off weekend," admitted Clark. "During the first race, I had a decent start but another rider tried to pass me and ran us both off the track. On Sunday, we had an unfortunate issue on the warm-up lap. Luckily the first start was delayed and we were able to make the second start, but in last place. Even though I got another good start on the Yoshimura Suzuki GSX-R1000, I made a mistake trying to make-up positions and ran off-track. Now I'm just focusing on getting a good result at Barber."

The Yoshimura Suzuki Factory Racing team's next event of the 2013 AMA Pro Superbike Championship series is at Barber Motorsports Park in Birmingham on June 21 - 23rd.

Source: Team Suzuki

Michael Jordan Suzukis Podium At Road America SBK
[caption id="attachment_26703" align="alignright" width="300"]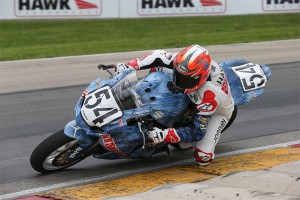 Roger Hayden turned in a solid effort on the Jordan Suzuki GSX-R1000.[/caption]

The Michael Jordan Motorsports team celebrated its first AMA Pro National Guard Superbike podium of the year at the Road America second round in Elkhart Lake at the weekend.

MJM's 600cc contingency also had plenty to cheer about as National Guard Celtic Racing Suzuki's Corey Alexander swept both wins in AMA Pro SuperSport.

In the premier Superbike class, National Guard Jordan Suzuki's Roger Hayden turned in a solid effort on the Jordan Suzuki GSX-R1000. The Kentucky native put his head down and was there to capitalize on others mistakes, with the result being a third-placed finish on Saturday. On Sunday, he turned in another respectable performance and brought home fourth.

"We struggled some this weekend," admitted Hayden. "On Saturday, we were lucky to get on the podium. On Sunday, I was faster, I felt better and I was a lot closer to the lead-pack, but then I made a mistake and lost touch with the group. I'm a little disappointed about that, but this one is past us now. For some reason, I've never done well at Road America, so now I'm just looking forward to putting on a good show at Barber."

[caption id="attachment_26707" align="alignleft" width="300"]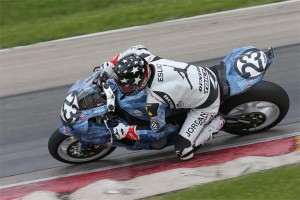 Danny Eslick was the picture of consistency over the weekend picking up two fifth-place finishes.[/caption]

Jordan Suzuki's newest rider Danny Eslick continued to familiarize himself with the Jordan Suzuki GSX-R1000. Eslick was the picture of consistency over the weekend picking up two fifth-place finishes.

Said Eslick: "It was a good weekend. It started off a little rough because I was off the pace. Then I had a crash in qualifying and that set me back, but my Jordan Suzuki crew worked hard to give me a good bike for the rest of the weekend. In Saturday's race I got a bad start and had to work my way up and I lost the lead pack, so it was a lonely race for me. On Sunday, I got a good start on the Jordan Suzuki GSX-R1000 and was able to hang in there. I'm still struggling a little as I get to know the bike but with some more seat time, we should be right there with them."

In AMA Pro SuperSport, National Guard Celtic Racing Suzuki's Alexander rode flawlessly on his Suzuki GSX-R600 to take both SuperSport wins. National Guard Celtic Racing Suzuki team-mate James Rispoli carded two seventh-placed finishes in AMA Pro Daytona SportBike.

[caption id="attachment_26700" align="alignright" width="300"]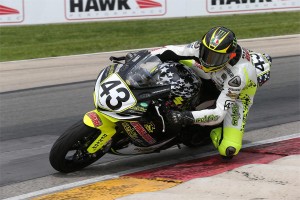 James Rispoli carded two seventh-placed finishes in AMA Pro Daytona SportBike.[/caption]

"It's definitely a good feeling to get back up on the podium and take the win," said Alexander. "My National Guard Celtic Racing team gave me a great bike with the Suzuki GSX-R600, so hats off to the whole team. Everybody put in a strong effort and we had some good battles out there. Now, we have some momentum going into Barber and I'm excited."

In the 2013 AMA Pro National Guard Superbike Championship series rider point standings, Eslick sits in fifth place and Hayden is sixth. In AMA Pro Daytona Sportbike, Rispoli moved up to fifth, while Alexander is second in AMA Pro SuperSport.

The Michael Jordan Motorsports team's next event of the 2013 AMA Pro National Guard Superbike Championship series is at Barber Motorsports Park in Birmingham on June 21-23rd.

Source: Team Suzuki

Chris Fillmore Goes 9-8 At Road America
[caption id="attachment_26705" align="alignright" width="300"]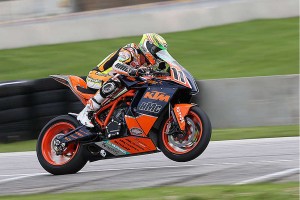 Chris Fillmore finished with two top ten finishes.[/caption]

KTM/HMC Superbike rider Chris Fillmore took home a 9th place result on Saturday and an 8th place finish during Sunday's race at the second round of the AMA Pro SuperBike Series held at Road America.

Fillmore had a great qualifying session to earn a 7th place starting position for Saturday's race. Once the race began, Fillmore leaped forward to a decent start. At the end of the first lap he was sitting inside the top ten. His teammate, Taylor Knapp, also had a good jump off the line and was sitting in 13th off the start. He quickly moved up one position on the next lap. Unfortunately, Knapp suffered a mechanical problem two laps later and did not finish the race. Meanwhile, Fillmore continued to plug away and went on to finish the race in 9th place.

On day two, Fillmore launched off to a 7th place start and Knapp to a 14th place start. Fillmore held 7th through the majority of the race, while Knapp chased down the 13th place rider. Unfortunately, Knapp suffered another mechanical and did not finish the race.

[caption id="attachment_26701" align="alignleft" width="300"]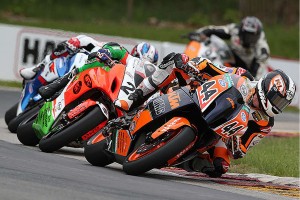 Taylor Knapp suffered a mechanical problem and did not finish the race.[/caption]

On lap seven Fillmore began a battle with David Anthony for 7th position. Anthony made the pass on Fillmore with three laps to go but was unable to pull away from a hard-charging Fillmore. The two battled through to the checkered flag with Anthony edging out Fillmore by just a bike length when they crossed the line. Fillmore's effort earned him an 8th place finish for the day.

"I am happy to get two top ten finishes," remarked Fillmore. "We have made quite a few improvements on the bike in the last months but we definitely still have some areas to work on. I am happy with the progression so far and hope to continue to improve upon our results at the next round."

Next Event: Barber Raceway - June 21-23, 2013

Source: KTM North America

Dane Westby 6th In Road America Sunday Race
[caption id="attachment_26699" align="alignright" width="300"]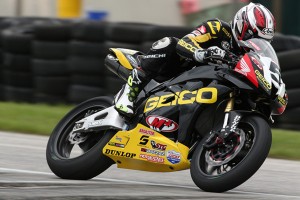 Dane Westby made steady improvement during Sunday's GoPro Daytona SportBike race[/caption]

GEICO Motorcycle Honda rider Dane Westby made steady improvement during Sunday's GoPro Daytona SportBike race at Road America. He finished sixth and made his quickest laps of the weekend during the second half of the Subway SuperBike Doubleheader at Road America, the second stop in the GEICO Motorcycle AMA Pro Road Racing Series.

"We did move forward," said Westby, who competed for the first time this season following a spleen injury. "We went faster than we qualified. We're still having some problems with myself and a little with the bike, but today was a step in the right direction."

Westby's biggest stumbling block of the weekend was reestablishing a confident feel for the front end of his GEICO Motorcycle Honda as it transitioned from Road America's long, fast straightaways into its tight corners. Westby didn't have the confidence in the front end to be as aggressive as the leaders through those sections.

"I'm going to try to get some more front-end feel any way I can," Westby said. "When I train at home, I'll ride my dirt bike or maybe lower the pressure in the front tires. I feel like this problem is me and not the bike."

Despite the mental hurdles, Westby still ran the fastest laps of the weekend on Sunday even though the track lost grip because of rain and a 30-degree shift in temperatures overnight. Westby's quickest lap on Sunday was 2 minutes, 20.919 seconds. During Saturday's race his best lap was a 2:21.469 on the way to an eighth-place finish.

"Before the next race we're going to change the way the power is delivered on the bike," Westby said. "I thought for sure I could pass Garrett Gerloff for fifth on the run to the line (on the last lap). I got a better drive on him and almost ran into him coming into the last corner and he just squirted away.

"There are a few things we need to iron out. Some of it sits with me and some of it is the bike. We're trying to make up for lost time. With the way my confidence has been shaken, I'm not able to fully tell them what's wrong with the bike."

But with a supportive crew and the next race at the familiar surroundings of Barber Motorsports Park, Westby said it shouldn't take long to return to form.

"Handling is this bike's strength," Westby said. "We've already tested at Barber and put up good times, so I think we'll be able to hang with these other bikes."

The next stop for the GEICO Motorcycle AMA Pro Road Racing Series is the June 21-23 Triumph SuperBike Classic at Barber Motorsports Park in Birmingham, Ala.

Source: Geico Honda

Closing Time: Josh Hayes Faces Tough Challenge from Martin Cardenas at Road America
[caption id="attachment_26713" align="alignright" width="300"]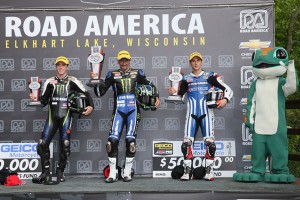 2013 AMA Pro National Guard SuperBike Road America - Race 2 Podium[/caption]

There were no 'what ifs' following the second half of the Subway SuperBike Doubleheader that closed out the GEICO Motorcycle AMA Pro Road Racing weekend at Road America.

In contrast to Saturday's opening-lap clash for the lead, the championship's three major players -- reigning National Guard SuperBike champ, Josh Hayes, pre-event title leader Josh Herrin, and the current points leader, Martin Cardenas -- all got away relatively cleanly for the 12-lap contest and settled in for a straight fight to determine the day's victor.

And in the end, Hayes once again proved his supremacy. However, unlike the script that played out so frequently during the 2012 season -- including twice here at Road America -- the win did not come easily.

The Monster Energy/Graves/Yamaha superstar worked past Herrin on the opening lap and then hounded Cardenas until he finally found a way into the lead on lap 3. But, once in front, it proved no easy task to shake his determined challengers, and when he finally did -- unlike his numerous '12 blowouts -- the race was still not completely decided.

[caption id="attachment_26698" align="alignleft" width="300"]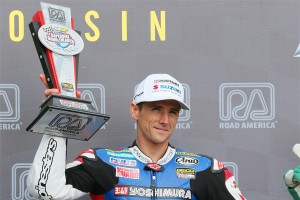 Martin Cardenas' effort was most impressive and further signaled his arrival as a serious contender for the throne.[/caption]

Hayes pushed the gap up to 2.428 seconds by lap 7, however, Cardenas responded by finding his groove aboard the #36 Yoshimura Suzuki Factory Racing GSX-R1000. The Mississippian's advantage decreased lap by lap from there on out until he finally took the checkered flag with the charging Colombian just 0.818 seconds behind and within a sniff of his #1 R1's draft.

The victory marks Hayes' fifth National Guard Superbike win in a row at Road America -- the most of any rider. It also marked his second consecutive season of not only maximizing his points haul in Wisconsin but doing so while topping every single practice, qualifying session, and race.

Hayes now boasts 35 career SuperBike victories and lowered his title deficit by 14 points on the weekend. He currently has 71 points, 34 removed from Cardenas' class-leading 105.

With his Daytona disaster now firmly behind him, Hayes said, "It was a great weekend. I'm really happy with the results. The racing was very hard for me. It was a really tough day."

Commenting on Cardenas' late-race rally, Hayes remarked, "I was trying really, really hard. I got really tight. I was definitely struggling even from the halfway flag on. It was just me hanging on and gripping the bars really tight. My right arm is pretty worked... I started to panic a little bit when he started closing that gap up, but I was just trying to stay relaxed. I never really looked back. I had a pretty bad moment in 8 and thought, 'oh, you just threw away the race.' I looked back and saw I had a little bit of room and just tried to ride the second half of the lap clean. I'm glad I was able to make it to the line."

[caption id="attachment_26717" align="alignright" width="200"]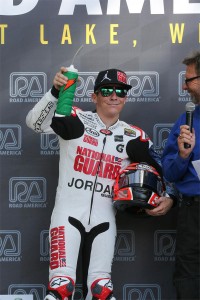 Rodger Hayden tried to repeat his podium performance, but had to settle for 4th on Sunday.[/caption]

While he didn't complete his charge for the win, Cardenas' effort was most impressive and further signaled his arrival as a serious contender for the throne.

He said, "The race was good. I liked it a little bit better than yesterday. Especially at the end, I got in a very good rhythm. I got a good start and the first few laps I was kinda okay. And then he passed me and did some very fast laps and I couldn't keep on with him. I was not so good in some corners, but then I calmed down and started to get into a very good rhythm. We finished second, which is a very good place and a little bit closer, which is the idea. We're happier than yesterday, and the Suzuki is working good. We're looking forward to Barber and seeing what we can do."

Herrin hung tough on Cardenas' rear wheel until the Suzuki man ratcheted up the pace. Once he lost the tow, Herrin faded dramatically, finishing more than eight seconds off the win. However, the career-long Yamaha pilot had built up a large safety margin behind him and cruised to a safe podium finish.

"I thought it was really good," Herrin said, who is now second in the points with 92. "Towards the end of the race I faded, obviously. I have no excuses for that -- I was making little mistakes. For some reason when Martin would run wide, I'd think in my head, 'here's my chance to catch up or to pass him' but I'd follow him every time. He'd run wide, I'd run wide. He'd have a bobble, I'd have a bobble. That was really hurting me.

"Towards the end, he really dropped the hammer and started reeling in Josh. I was hoping I'd stay with him but I just wasn't able to."

National Guard Jordan Suzuki's Roger Hayden scored a lonely fourth after flashing a front-running pace on the race's opening two laps. He was followed home by his Jordan Suzuki teammate, Danny Eslick, to put three Suzukis in the top five.

Foremost Insurance Pegram Racing Yamaha's Larry Pegram took sixth with several seconds of padding in either direction.

Motosport.com Motul Fly Racing's David Anthony beat KTM/HMC Racing's Chris Fillmore for seventh. Team AMSOIL/Hero's Aaron Yates was elevated to top EBR 1190RS pilot when his Team Hero teammate, Geoff May, crashed out of seventh on lap 3. The big Georgian finished ninth.

Team RSRacecraft EBR's Cory West just held on to beat Farrell Performance Kawasaki's Jason Farrell and M4 Broaster Chicken Honda's Chris Ulrich for the final spot inside the top ten.

AMA Pro GoPro Daytona SportBike
[caption id="attachment_26709" align="alignright" width="300"]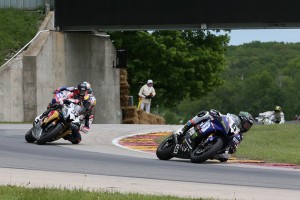 A battle between Jake Gagne and Cameron Beaubier that saw each rider take a turn at the front - Photo: Brian J. Nelson[/caption]

Sunday's AMA Pro GoPro Daytona SportBike race was a classic, a battle between Jake Gagne and Cameron Beaubier that saw each rider take a turn at the front and one that saw both riders nearly lose control at other times on the 4.05-mile Road America circuit. RoadRace Factory/Red Bull's Gagne took his second AMA Pro GoPro Daytona SportBike win with a great ride that saw him pressure Beaubier into a mistake with three laps to go. Jake Lewis earned third via a photo finish with J.D. Beach.

Gagne won last year's GoPro Daytona SportBike race at Miami in the rain, and today's Road America win was his first DSB victory in the dry. Unlike yesterday's contest, Gagne was able to stick with Beaubier in the early going.

"I think Cam had more pace than me early in the race," Gagne said. "I didn't want him to get away like yesterday. A few laps to go, he made a mistake, and I got a gap."

The colder temperature conditions certainly changed things for the riders from Saturday's race and both riders were near and sometimes beyond the limits of traction throughout the 13-lap contest. Beaubier even cracked his windscreen but managed to keep his Yamaha Extended Service/Monster Energy/Graves/Yamaha YZF-R6 on two wheels to the finish, and he maintained the points lead.

[caption id="attachment_26715" align="alignleft" width="300"]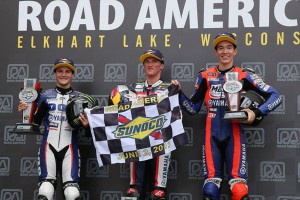 2013 AMA Pro Daytona SportBike Road America - Race 2 Podium[/caption]

"I made a lot of mistakes and felt like I had the pace to win. I almost ran into Jake but he rode awesome and got a good win," said Beaubier, who now leads Gagne by 15 points in the championship.

Lewis and Beach had a similar race, but their battle only concluded with the checkered flag. Lewis, racing his Meen Motorsports Racing Yamaha, finished just 0.008 seconds in front of RoadRace Factory/Red Bull's Beach, who had won the battle of Kentucky residents on Saturday.

Garrett Gerloff took fifth again for Y.E.S./Monster Energy/Graves/Yamaha and is now third in the GoPro Daytona SportBike points behind Beaubier and Gagne. Oklahoman Dane Westby was sixth on the GEICO Motorcycle Road Racing machine. James Rispoli (National Guard/Celtic Racing) shadowed Westby to the line.

Jason DiSalvo (Latus Motors Triumph), Elena Myers (Castrol/Triumph/Apex Manufacturing), and Ben Young (Ben Young Racing) rounded out the top ten.

AMA Pro SuperSport
[caption id="attachment_26712" align="alignright" width="300"]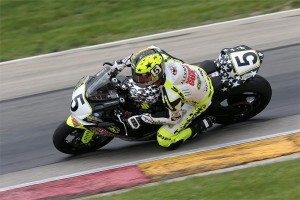 Corey Alexander won the AMA Pro SuperSport race at Road America on Sunday, making it a weekend sweep.[/caption]

Corey Alexander won the AMA Pro SuperSport race at Road America on Sunday, besting a five-rider draft pack in the final run up the hill to make it a weekend sweep for the National Guard/Celtic Racing pilot. The rising star topped Stefano Mesa (Motosport.com RSRacecraft) and Tomas Puerta (RoadRace Factory/Red Bull) for the win, with AMA Pro officials confirming the results with a photo finish.

"We changed positions so many times, it was tough to remember everything that happened," Alexander said. "I could have been first, and I could have been fifth. I was glad to win it. First off, everyone in the top five had an awesome race. The bike was great all weekend, and we have some momentum going into Barber."

Stefano Mesa took second-place again on Sunday. "It was a solid weekend with the new team. Two second places, it was a good fight. All five of us out there were riding strong. My hat is off to the others," said Mesa.

Puerta looked to back up his Daytona victory with another triumph but lost out in the waning moments. The Colombian still took a fine third place. "We were battling very hard. With two laps to go, I got the lead and tried to pull away, but it did not work out," said Tomas.

Officially, Mesa was 0.012 seconds behind Alexander, and Puerta was a scant .001 farther back.

Also in the lead pack were Harv's H-D racer Travis Wyman and Baby Appleseed CM Motorsports' Jeffrey Tigert. The top five finished the race within 0.425 seconds, making for a tightly contested victory.

Initially the first race on Sunday's schedule, the race was red-flagged after a crash on a restart and postponed until the last event of the day.

Connor Blevins (Ajax Kawasaki) was fifth, ahead of Houston Superbikes' Travis Ohge and Team 95's Hayden Gillim.

AMA Pro Vance & Hines Harley-Davidson Series
[caption id="attachment_26710" align="alignright" width="300"]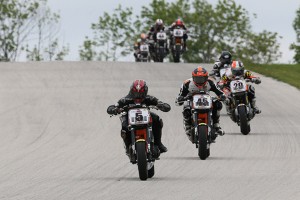 Steve Rapp managed to escape from the pack and win the race going away.[/caption]

Suburban Harley-Davidson's Steve Rapp did the unthinkable in Sunday's 6-lap AMA Pro Vance & Hines Harley-Davidson Series final -- he managed to escape from the pack and win the race going away.

Each previous H-D dogfight at the circuit was decided by 0.157 seconds or less, but the veteran competitor somehow managed to break free of the draft and control the race from the front, ultimately taking the checkered flag with some four seconds in hand.

Adding to the level of difficulty was the fact that the airline pilot didn't even show up at the track until Sunday morning; Rapp earned a slot on the front row of the grid in the class' second qualifying session, which was held Sunday morning, and then flew to victory in the afternoon in what was his day off from work.

Rapp said, "I love this place -- I do. I always look forward to coming here... I'm just happy to be here. It's Suburban Harley-Davidson's home race and I want to thank them -- they put in a big effort.

[caption id="attachment_26714" align="alignleft" width="300"]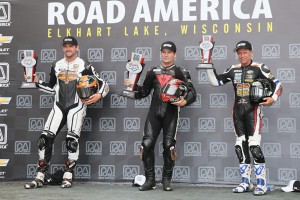 2013 AMA Pro Vance & Hines Harley-Davidson XR1200 Road America Podium[/caption]

"It was really just a great, great day for me."

While Rapp's dominance eliminated the expected drama for the win, a thrilling scrap took place behind him to decide second.

Rapp's Suburban Harley-Davidson teammate, Ben Carlson, ultimately took a popular runner-up result in front of his home fans by an impossibly small 0.001-second margin over Rossmeyers Harley-Davidson's reigning champ Michael Barnes.

Harv's Harley-Davidson's Travis Wyman was a further 0.063 back in fourth.

Eco Fuel Saver/Scrubblade/Bartels' Tyler O'Hara was also part of a four-man pack fighting for the position for much of the race but was forced out with a mechanical issue moments after moving into second position.

ChiliPepperRacing.com's Ricky Parker came out on top of a hard-fought four-rider brawl to complete the top five.

Next Up
The racing at Road America included some of the closest competition and fiercest battles seen to date and the series looks to continue the momentum later this month at the Triumph SuperBike Classes presented by America's First Federal Credit Union. The 2013 GEICO Motorcycle AMA Pro Road Racing season will return to the track on June 21-23 at Barber Motorsports Park in Birmingham, Ala. For tickets and information, please visit http://www.barbermotorsports.com.

Source: AMA Pro Racing

Road America Overview And Point Standings
2013 AMA Pro Road Racing Road America Image Gallery (Click for full size images)


AMA Pro SuperBike Class Race 1 Results - Race Time: 29:07.327






























































































































































































| Pos. | # | Rider | Bike | Interval | Best Time |
| --- | --- | --- | --- | --- | --- |
| 1 | 1 | Josh Hayes | Yamaha R1 | 13 Laps | 2:12.856 |
| 2 | 36 | Martin Cardenas | Suzuki GSX-R1000 | 3.984 | 2:13.795 |
| 3 | 54 | Roger Lee Hayden | Suzuki GSX-R1000 | 22.297 | 2:14.914 |
| 4 | 72 | Larry Pegram | Yamaha R1 | 23.106 | 2:14.670 |
| 5 | 23 | Danny Eslick | Suzuki GSX-R1000 | 31.975 | 2:15.240 |
| 6 | 2 | Josh Herrin | Yamaha R1 | 34.055 | 2:13.940 |
| 7 | 99 | Geoff May | EBR 1190RS | 34.802 | 2:15.975 |
| 8 | 25 | David Anthony | Suzuki GSX-R1000 | 44.547 | 2:16.763 |
| 9 | 11 | Chris Fillmore | KTM RC8R | 44.570 | 2:16.493 |
| 10 | 13 | Cory West | EBR 1190RS | 1:05.450 | 2:17.894 |
| 11 | 6 | Chris Clark | Suzuki GSX-R1000 | 1:20.420 | 2:18.077 |
| 12 | 20 | Aaron Yates | EBR 1190RS | 1:27.692 | 2:17.182 |
| 13 | 18 | Chris Ulrich | Honda CBR1000RR | 1:36.108 | 2:19.297 |
| 14 | 28 | Ryan Kerr | Suzuki GSX-R1000 | 1:51.683 | 2:20.156 |
| 15 | 14 | Nico Ferreira | Kawasaki ZX-10 | 1:55.266 | 2:21.551 |
| 16 | 94 | Michael Garner | Kawasaki ZX-10 | 12 Laps | 2:24.630 |
| 17 | 123 | Jacquel Gonzalez | Kawasaki ZX-10 | 27.453 | 2:26.925 |
| 18 | 44 | Taylor Knapp | KTM RC8R | 4 Laps | 2:18.978 |
| 19 | 68 | Dustin Dominguez | EBR 1190RS | 1.944 | 2:18.440 |
| 20 | 78 | Reese Wacker | Suzuki GSX-R1000 | 1 Lap | 3:14.485 |
| 21 | 86 | Jason Farrell | Kawasaki ZX-10 | DNF | DNF |
| 22 | 75 | Huntley Nash | Kawasaki ZX-10 | DNF | DNF |
AMA Pro SuperBike Class Race 2 Results - Race Time: 26:49.574
Pos.
#
Rider
Bike
Interval
Best Time
1
1
Josh Hayes
Yamaha R1
12 Laps
2:12.954
2
36
Martin Cardenas
Suzuki GSX-R1000
0.818
2:13.110
3
2
Josh Herrin
Yamaha R1
8.191
2:13.429
4
54
Roger Lee Hayden
Suzuki GSX-R1000
19.242
2:14.331
5
23
Danny Eslick
Suzuki GSX-R1000
27.707
2:14.874
6
72
Larry Pegram
Yamaha R1
31.210
2:15.073
7
25
David Anthony
Suzuki GSX-R1000
37.482
2:15.978
8
11
Chris Fillmore
KTM RC8R
37.551
2:15.830
9
20
Aaron Yates
EBR 1190RS
53.144
2:17.439
10
13
Cory West
EBR 1190RS
58.421
2:17.727
11
86
Jason Farrell
Kawasaki ZX-10
58.671
2:17.724
12
18
Chris Ulrich
Honda CBR1000RR
58.969
2:17.899
13
75
Huntley Nash
Kawasaki ZX-10
1:16.797
2:18.883
14
6
Chris Clark
Suzuki GSX-R1000
1:36.392
2:17.802
15
14
Nico Ferreira
Kawasaki ZX-10
1:40.648
2:20.878
16
78
Reese Wacker
Suzuki GSX-R1000
1:54.506
2:21.969
17
94
Michael Garner
Kawasaki ZX-10
11 Laps
2:23.968
18
123
Jacquel Gonzalez
Kawasaki ZX-10
18.322
2:24.425
19
44
Taylor Knapp
KTM RC8R
4 Laps
2:18.806
20
68
Dustin Dominguez
EBR 1190RS
3 Laps
2:25.465
21
28
Ryan Kerr
Suzuki GSX-R1000
2:40.225
2:22.447
22
99
Geoff May
EBR 1190RS
2 Laps
2:15.807
23
Rider Point Standings - SuperBike Class ( Race 4 of 15 )


Martin Cardenas - 105

Josh Herrin - 92

Larry Pegram - 75

Josh Hayes - 71

Danny Eslick - 66

Roger Lee Hayden - 57

Chris Fillmore - 49

Chris Clark - 48

David Anthony - 47

Chris Ulrich - 36

AMA Pro Daytona SportBike Class Race 1 Results - Race Time: 30:38.696
| Pos. | # | Rider | Bike | Interval | Best Time |
| --- | --- | --- | --- | --- | --- |
| 1 | 6 | Cameron Beaubier | Yamaha YZF-R6 | 13 Laps | 2:19.555 |
| 2 | 32 | Jake Gagne | Yamaha YZF-R6 | 2.693 | 2:20.451 |
| 3 | 95 | JD Beach | Yamaha YZF-R6 | 15.157 | 2:21.424 |
| 4 | 85 | Jake Lewis | Yamaha YZF-R6 | 15.456 | 2:21.187 |
| 5 | 8 | Garrett Gerloff | Yamaha YZF-R6 | 20.860 | 2:21.712 |
| 6 | 50 | Bobby Fong | Triumph Daytona 675 | 21.385 | 2:21.725 |
| 7 | 43 | James Rispoli | Suzuki GSX-R600 | 21.467 | 2:21.843 |
| 8 | 5 | Dane Westby | Honda CBR600RR | 21.469 | 2:21.741 |
| 9 | 40 | Jason DiSalvo | Triumph Daytona 675 | 51.377 | 2:23.722 |
| 10 | 21 | Elena Myers | Triumph Daytona 675 | 51.451 | 2:23.866 |
| 11 | 86 | Ben Young | Yamaha YZF-R6 | 58.131 | 2:24.695 |
| 12 | 3 | Benny Solis | Honda CBR600RR | 58.387 | 2:23.742 |
| 13 | 52 | Joey Pascarella | Triumph Daytona 675 | 1:17.488 | 2:25.632 |
| 14 | 42 | Kenny Riedmann | Triumph Daytona 675 | 1:18.759 | 2:25.546 |
| 15 | 29 | Barrett Long | Ducati 848 | 1:20.340 | 2:25.388 |
| 16 | 7 | Fernando Amantini | Yamaha YZF-R6 | 1:20.370 | 2:25.570 |
| 17 | 13 | Melissa Paris | Honda CBR600RR | 1:20.745 | 2:25.554 |
| 18 | 33 | Kyle Wyman | Triumph Daytona 675 | 1:26.834 | 2:26.483 |
| 19 | 24 | Scott Ryan | Yamaha YZF-R6 | 1:29.342 | 2:26.970 |
| 20 | 966 | Daniel Ortega | Yamaha YZF-R6 | 1:48.529 | 2:27.733 |
| 21 | 221 | Walt Sipp | Buell 1125R | 2:15.695 | 2:30.255 |
| 22 | 75 | Huntley Nash | Yamaha YZF-R6 | 9 Laps | 2:24.987 |
AMA Pro Daytona SportBike Class Race 2 Results - Race Time: 30:36.895
Pos.
#
Rider
Bike
Interval
Best Time
1
32
Jake Gagne
Yamaha YZF-R6
13 Laps
2:19.396
2
6
Cameron Beaubier
Yamaha YZF-R6
4.191
2:19.367
3
85
Jake Lewis
Yamaha YZF-R6
12.016
2:20.510
4
95
JD Beach
Yamaha YZF-R6
12.024
2:20.557
5
8
Garrett Gerloff
Yamaha YZF-R6
17.993
2:21.271
6
5
Dane Westby
Honda CBR600RR
18.122
2:20.919
7
43
James Rispoli
Suzuki GSX-R600
18.287
2:20.934
8
40
Jason DiSalvo
Triumph Daytona 675
55.686
2:23.913
9
21
Elena Myers
Triumph Daytona 675
1:05.528
2:24.255
10
86
Ben Young
Yamaha YZF-R6
1:18.076
2:25.354
11
42
Kenny Riedmann
Triumph Daytona 675
1:19.182
2:26.004
12
29
Barrett Long
Ducati 848
1:20.438
2:25.015
13
24
Scott Ryan
Yamaha YZF-R6
1:25.545
2:25.904
14
3
Benny Solis
Honda CBR600RR
1:29.857
2:24.163
15
33
Kyle Wyman
Triumph Daytona 675
1:40.910
2:27.587
16
13
Melissa Paris
1:41.299
2:27.009
17
966
Daniel Ortega
Yamaha YZF-R6
2:08.204
2:29.197
18
221
Walt Sipp
Buell 1125R
12 Laps
2:31.376
19
52
Joey Pascarella
Triumph Daytona 675
11 Laps
2:24.789
20
7
Fernando Amantini
Yamaha YZF-R6
7 Laps
2:29.373
21
75
Huntley Nash
Yamaha YZF-R6
3 Laps
2:25.280
22
50
Bobby Fong
Triumph Daytona 675
1 Lap
2:45.455
Rider Point Standings - SportBike Class ( Race 3 of 14 )


Cameron Beaubier - 89

Jake Gagne - 74

Garrett Gerloff - 57

JD Beach - 55

James Rispoli - 42

Jake Lewis - 39

Bobby Fong - 36

Elena Myers - 35

Ben Young - 34

Dane Westby - 28

AMA Pro SuperSport Class Race 1 Results - Race Time: 24:15.381
| Pos. | # | Rider | Bike | Interval | Best Time |
| --- | --- | --- | --- | --- | --- |
| 1 | 5 | Corey Alexander | Suzuki GSX-R600 | 10 Laps | 2:23.743 |
| 2 | 37 | Stefano Mesa | Yamaha YZF-R6 | 1.118 | 2:23.957 |
| 3 | 91 | Jeffrey Tigert | Yamaha YZF-R6 | 7.262 | 2:24.354 |
| 4 | 12 | Tomas Puerta | Yamaha YZF-R6 | 13.740 | 2:25.829 |
| 5 | 101 | David Sadowski, Jr. | Yamaha YZF-R6 | 13.815 | 2:24.970 |
| 6 | 109 | Ricardo Valdez | Yamaha YZF-R6 | 14.104 | 2:24.720 |
| 7 | 73 | Sebastiao Ferreira | Yamaha YZF-R6 | 18.751 | 2:25.319 |
| 8 | 24 | Travis Wyman | Suzuki GSX-R600 | 18.797 | 2:25.112 |
| 9 | 72 | Miles Thornton | Yamaha YZF-R6 | 20.223 | 2:24.965 |
| 10 | 33 | Conner Blevins | Kawasaki ZX-6R | 21.759 | 2:25.850 |
| 11 | 9 | Wyatt Farris | Yamaha YZF-R6 | 22.746 | 2:25.740 |
| 12 | 63 | Devon McDonough | Yamaha YZF-R6 | 22.760 | 2:26.014 |
| 13 | 4 | Travis Ohge | Suzuki GSX-R600 | 26.720 | 2:26.070 |
| 14 | 122 | Ryan Matter | Yamaha YZF-R6 | 31.572 | 2:26.204 |
| 15 | 13 | Charles Weaver | Yamaha YZF-R6 | 42.696 | 2:26.985 |
| 16 | 97 | Nicholas Hansen | Buell 1125R | 43.297 | 2:27.477 |
| 17 | 44 | Caroline Olsen | Suzuki GSX-R600 | 44.295 | 2:27.744 |
| 18 | 162 | Andrew DiBrino | Yamaha YZF-R6 | 53.914 | 2:27.985 |
| 19 | 45 | Jordan Imrie | Honda CBR600RR | 1:02.740 | 2:29.299 |
| 20 | 172 | Ronny Frias | Yamaha YZF-R6 | 1:04.893 | 2:29.378 |
AMA Pro SuperSport Class Race 2 Results - Race Time: 24:23.525
| Pos. | # | Rider | Bike | Interval | Best Time |
| --- | --- | --- | --- | --- | --- |
| 1 | 5 | Corey Alexander | Suzuki GSX-R600 | 10 Laps | 2:24.723 |
| 2 | 37 | Stefano Mesa | Yamaha YZF-R6 | 0.012 | 2:24.764 |
| 3 | 12 | Tomas Puerta | Yamaha YZF-R6 | 0.013 | 2:24.967 |
| 4 | 24 | Travis Wyman | Suzuki GSX-R600 | 0.148 | 2:24.712 |
| 5 | 91 | Jeffrey Tigert | Yamaha YZF-R6 | 0.425 | 2:24.628 |
| 6 | 33 | Conner Blevins | Kawasaki ZX-6R | 3.800 | 2:25.672 |
| 7 | 4 | Travis Ohge | Suzuki GSX-R600 | 5.558 | 2:24.744 |
| 8 | 69 | Hayden Gillim | Yamaha YZF-R6 | 5.664 | 2:25.117 |
| 9 | 9 | Wyatt Farris | Yamaha YZF-R6 | 6.196 | 2:25.138 |
| 10 | 72 | Miles Thornton | Yamaha YZF-R6 | 8.696 | 2:24.817 |
| 11 | 63 | Devon McDonough | Yamaha YZF-R6 | 14.005 | 2:25.794 |
| 12 | 73 | Sebastiao Ferreira | Yamaha YZF-R6 | 14.154 | 2:25.345 |
| 13 | 122 | Ryan Matter | Yamaha YZF-R6 | 20.363 | 2:25.902 |
| 14 | 13 | Charles Weaver | Yamaha YZF-R6 | 20.692 | 2:25.683 |
| 15 | 97 | Nicholas Hansen | Buell 1125R | 36.358 | 2:28.067 |
| 16 | 88 | Gerry Signorelli | Triumph Daytona 675 | 36.715 | 2:27.922 |
| 17 | 162 | Andrew DiBrino | Yamaha YZF-R6 | 47.843 | 2:28.689 |
| 18 | 172 | Ronny Frias | Yamaha YZF-R6 | 48.137 | 2:29.008 |
| 19 | 45 | Jordan Imrie | Honda CBR600RR | 50.231 | 2:29.091 |
| 20 | 3 | Cody Wyman | Suzuki GSX-R600 | 59.080 | 2:30.218 |
Rider Point Standings - SuperSport East Class ( Race 4 of 10 )


Stefano Mesa - 95

Corey Alexander - 89

Travis Wyman - 47

Hayden Gillim - 43

Conner Blevins - 39

Miles Thornton - 35

Devon McDonough - 28

Mark Miller Jr. - 25

Ricardo Valdez - 24

Cody Wyman - 19

Rider Point Standings - SuperSport West Class ( Race 4 of 9 )


Tomas Puerta - 88

David Sadowski, Jr. - 56

Jeffrey Tigert - 55

Sebastiao Ferreira - 52

Travis Ohge - 43

Wyatt Farris - 39

Charles Weaver - 38

Ryan Matter - 25

Matthew Sadowski - 18

Andrew DiBrino - 7

AMA Pro Vance & Hines Harley-Davidson XR1200 Results - Race Time: 15:46.774
| Pos. | # | Rider | Interval | Gap | Best Time | Points |
| --- | --- | --- | --- | --- | --- | --- |
| 1 | 5 | Steve Rapp | 6 Laps | WINNER | 2:36.097 | 31 |
| 2 | 45 | Benjamin Carlson | 4.051 | 4.051 | 2:36.934 | 25 |
| 3 | 1 | Michael Barnes | 4.052 | 0.001 | 2:36.366 | 22 |
| 4 | 24 | Travis Wyman | 4.116 | 0.063 | 2:36.570 | 18 |
| 5 | 96 | Ricky Parker | 33.993 | 29.877 | 2:41.570 | 16 |
| 6 | 229 | Darren James | 34.739 | 0.745 | 2:41.793 | 15 |
| 7 | 2 | Barrett Long | 34.945 | 0.206 | 2:41.591 | 14 |
| 8 | 70 | Paul James | 42.048 | 7.102 | 2:42.950 | 13 |
| 9 | 10 | Josh Chisum | 42.054 | 0.005 | 2:41.772 | 12 |
| 10 | 105 | Brice Cooper | 42.360 | 0.306 | 2:42.524 | 11 |
| 11 | 44 | Adam Raffe | 42.493 | 0.133 | 2:42.556 | 10 |
| 12 | 9 | Eric Haugo | 50.949 | 8.455 | 2:44.174 | 9 |
| 13 | 4 | Cory Texter | 1:17.916 | 26.966 | 2:48.386 | 8 |
| 14 | 990 | Dave Rhinehart | 2:23.014 | 1:05.098 | 2:59.041 | 7 |
| 15 | 59 | Hayden Schultz | 5 Laps | 1 Lap | 2:41.596 | 6 |
| 16 | 123 | David Estok | 3:44.884 | 3:44.884 | 2:45.202 | 5 |
| 17 | 29 | Tyler O'Hara | 4 Laps | 1 Lap | 2:36.390 | 4 |
| 18 | 97 | Nicholas Hansen | 3 Laps | 1 Lap | 2:40.751 | 3 |
| 19 | 46 | Shane Narbonne | 2 Laps | 1 Lap | 2:44.721 | 0 |
| 20 | 77 | Eric Stump | DNF | DNF | -no times- | 0 |
| 21 | 199 | Bryan Desimone | DNS | DNS | -no times- | 0 |
| 22 | 110 | Greg Hutcheson | DNS | DNS | -no times- | 0 |
Rider Point Standings - Vance & Hines Harley-Davidson XR1200( Race 2 of 9 )


Michael Barnes - 37

Tyler O'Hara - 35

Travis Wyman - 32

Steve Rapp - 31

Kyle Wyman - 25

Benjamin Carlson - 25

Barrett Long - 22

Bobby Fong - 21

Michael Corbino - 18

Paul James - 18