The Dirt Bike Guy: 2013 KTM 450 SX-F
Chaparral Motorsports
|
June 1, 2013
|
Last Updated: October 9, 2020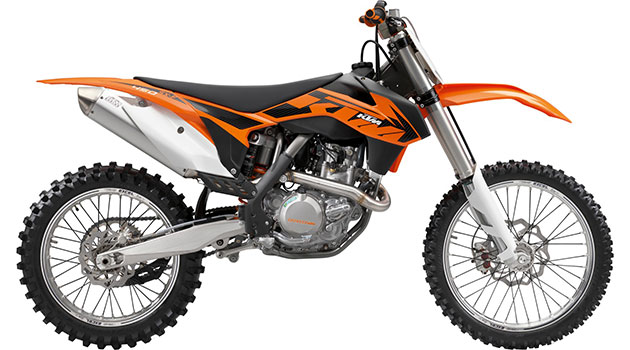 2013 KTM 450 SX-F: Made For Motocross
When I think of the best motocross bikes on the market, my mind goes right to KTM. The manufacturer has been responsible for some of the sleekest, fastest dirt bikes out there, and anyone who has ridden one on the trails knows how great the machine can be. There's a reason the KTM 450 SX-F was used to win some professional motocross championships, and riders who want that same level of excellence can look to the bike for their own recreational needs.
Engine - Most Powerful Yet
At the center of the 2013 KTM 450 SX-F is an all-new, water-cooled engine. Designed to be lighter and more powerful than its predecessors, the motor is filled with some new technology that provides plenty of oomph in any situation. An electric starter powers up the apparatus in seconds with just the touch of a button, activating the 60-horsepower engine with 449.3cc of displacement so you can hit the ground running. The rpm limit has been increased to 11,500, and the crankcases have been die-cast, resulting in a more powerful, lightweight system.
Chassis & Frame - Improved Stability & Steering
Even the most dominant of engines wouldn't last very long without a solid chassis. Luckily, the 2013 KTM 450 SX-F features a frame that's capable of handling all conditions. It's light yet strong, and you can feel the rigidity of the material as you traverse any type of terrain. The structure contributes to a greater lateral stiffness in the bike, and a 48 mm fork works perfectly with the dirt bike to improve stability and the overall riding experience.
You'll find that the steering is precise - the dirt bike can respond to even the lightest touch - thanks to the light, 250-pound weight when it's fully fueled. The steering head has also been reinforced to allow for better handling and more stiffness higher in the machine.
Final Thoughts - Motocross Designed
Several other features of the 2013 KTM 450 SX-F have been revamped to make it a great dirt bike. Although the fuel tank holds just under two gallons of gas, you don't need much to propel the machine, and the tank has been revamped to fit with the rest of the bike in both function and design. The front fender has been remodeled to remove all ribbing, which cuts down on mud build-up, and the bike as a whole doesn't require a lot of maintenance, so you can enjoy riding without a lot of extra hassle.
All in all, the 2013 KTM 450 SX-F is a machine that's made for motocross. You're sure to make an impression on the trails when you set off in this dirt bike.
2013 KTM 450 SX-F Image Gallery