Celebrate Ride To Work Day This Summer
Chaparral Motorsports
|
May 24, 2013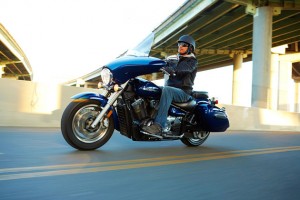 Motorcyclists across the country will be cruising down the roads this summer, but those who set out June 17 may be doing so with a special reason in mind. That's the date of the 22nd annual Ride to Work Day, which encourages riders to take advantage of their two-wheeled machines as they commute and go about their daily routine. This year's event is expected to be the biggest in its history, and riders from all around the world will participate.

Ride to Work Day began in July 1992, and from then on many motorcycle businesses started recognizing the effort. Since that time, the number of motorcycles and scooters in the U.S. has grown to more than 8 million, but only about 200,000 of those are used for everyday commuting. On Ride to Work Day, the number of riders taking these machines to work grows to an estimated 1 million.

Commuting via motorcycle or scooter can save individuals both time and money. It also gives them some more time on their beloved machines - a desire any motorist can appreciate once the warm summer weather rolls around. As long as riders are sure they have the best riding gear and reflective equipment before hopping on the back of their bikes, they can reap the benefits of this global event.