Husqvarna Joins With Husaberg To Revamp Bikes
Chaparral Motorsports
|
May 23, 2013
[caption id="attachment_26403" align="alignright" width="300"]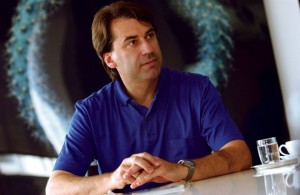 Stefan Pierer, CEO of KTM and owner of Pierer Industrie AG[/caption]

Husqvarna has a long and storied history in the motorsports world, but that doesn't mean the manufacturer can't hold out for some redesigns. That's exactly what's in store for the brand in 2013, as Husqvarna has joined forces with fellow Swedish company Husaberg with an eye on creating a comprehensive motorcycle. The two brands are teaming up after Husqvarna was acquired by Pierer Industrie AG, which is affiliated with Husaberg, earlier this year.

The new company, which will be called Husqvarna Sportmotorcycle GmbH, is expected to become fully operational in October 2013. It will be based in Austria and is set to debut with a new generation of Husqvarna motorcycles and dirt bike gear catered to motocross, enduro and sport riding. According to Motorcycle.com, the revitalized brand will continue to focus on off-road models while also working to develop a street-legal supermoto bikes and launching other projects as well.

Husaberg is set to bring an upgraded technology to the new line. After years of working with KTM, the Swedish brand is ready to expand its state-of-the-art features to Husqvarna. Even with all of the changes, however, riders who count Husky bikes among their collection can rest assured that the dirt bike parts or accessories they need to keep the machine in top condition will still be available, Auto Evolution reports.