Allstate Turns Attention To Motorcycle Safety
Chaparral Motorsports
|
May 22, 2013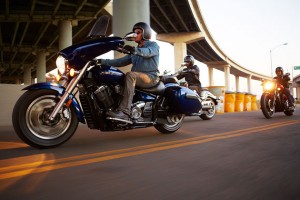 Insurance companies know, probably better than anyone, about the dangers of the roads. That's why it makes sense for Allstate to join in on National Motorcycle Safety Awareness Month, which is going on this May. The company started its efforts by donating warning signs that alert motorists of motorcycles on the road and is striving to raise awareness of the safety efforts.

The campaign, known as ONE, aims to get drivers to look twice for motorcycles when at intersections and in traffic, Motorcycle.com reports. By installing warning signs in major cities around the U.S. and educating drivers about the measures they can take to keep everyone on the roads safe.

"It's a known fact that motorcycle collisions with autos can have some of the most tragic consequences, and it's been our goal to help ensure the roads are shared safely by all motorists and riders," said Keith Rutman, vice president of Allstate's Specialty Lines unit. "... We wanted to provide an outlet for people to share their stories, reach other riders and warn them on a peer level about the potential risks a rider can face."

Of course, riders should make sure they are decked out in the most protective motorcycle apparel and accessories before they get on a bike. Reflective gear and other brightly colored items can help them to remain visible in any circumstance.