Weekend Warrior: 2013 Polaris Ranger RZR S 800
Chaparral Motorsports
|
May 3, 2013
|
Last Updated: October 7, 2020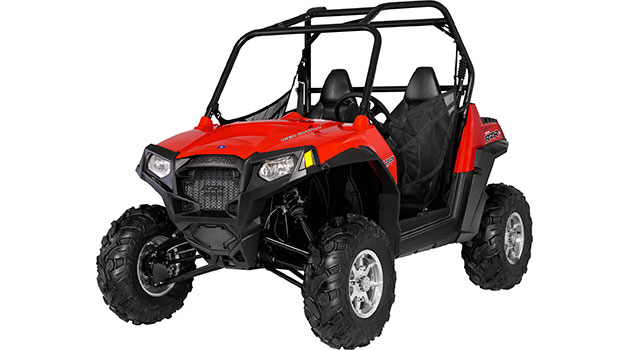 2013 Polaris RZR S 800: A Solid Choice Among UTVs
It's finally that time of year again: ATV season. The weather is getting to be just right for riding the powerful four-wheel vehicles, and if you're in the market for a new purchase to celebrate, there's a new Polaris machine that deserves your attention.
The 2013 Polaris Ranger RZR S 800 is a side-by-side machine that falls somewhere in the middle of the UTV spectrum. It's powerful enough to provide a solid amount of oomph for accelerating in wide open spaces, but it has features that lend well to tighter confines.
Power
At the heart of the 2013 Polaris RZR S 800 is a 760cc, high-output engine. The water-cooled, four-stroke motor produces up to 55 horsepower and can go from zero to 35 miles per hour in just under four seconds.
The engine is located behind the seat, propelling the machine with a smooth transmission and clutch engagement. Changing from two-wheel-drive to all-wheel-drive can be done on the fly, so you don't have to miss a beat when you're navigating the great outdoors.
Style
You can achieve a smooth ride on the 2013 Polaris RZR S 800 thanks to a 77-inch wheelbase and an overall wide stance. It also features a rear weight bias and low center of gravity. Although the cockpit is a bit on the smaller side, an adjustable passenger grab bar and tilted steering wheel accommodate riders of all sizes with ease.
With a dry weight of 1,022 pounds, the UTV is more than capable of providing a sturdy machine for all levels of motorists. The agility is quite impressive, as front and rear sway bars help to cut down on the amount of excess movement or vibrations at any given moment during the riding experience. Available in a variety of colors; including a Limited-Edition Sunset Red, Two-tone blue/orange and Two-tone orange/white; the Polaris UTV is one that will have you feeling slick as you make your way across the trails.
Final Thoughts - Ideal For Any Environment
Whether you're taking the 2013 Polaris RZR S 800 for a spin around the sprawling wilderness or testing the very limits of your skills in a more compact environment, the machine can satisfy your needs. Drivers who will be doing most of their riding in sandy areas can take advantage of the On-Demand True All Wheel Drive, which securely grips the ground.
Ultimately, this Polaris UTV probably isn't for riders who want a high-speed adventure. It is, however, ideal for young enthusiasts, beginners or people who will be mostly restricted to maneuvering in smaller spaces.
2013 Polaris Ranger RZR S 800 Image Gallery