KTM Announces Release Of New Electric Scooters
Chaparral Motorsports
|
April 24, 2013
[caption id="attachment_25509" align="alignright" width="300"]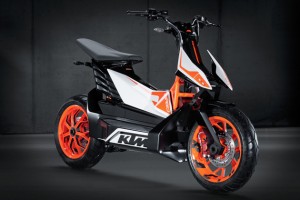 The KTM E-Speed electric scooters will be introduced 2015.[/caption]

Although KTM recently reported that it would scale back production of its electric bikes, the brand has confirmed the launch of two new machines. The Freeride E and E-Speed scooters will be introduced in 2014 and 2015, respectively, and aim to provide another environmentally friendly dimension to the motorsports market.

"We believe in the electro-mobility on two wheels," said KTM executive board member Harald Plockinger, as quoted by Motorcycle.com. "Because off-road sport is our core area, we have developed an E-Crosser, the Freeride E, but we are also convinced that urban mobility can succeed in urban areas."

To better suit these urban areas, KTM created the E-Speed scooter. While this machine is set up similarly to the Freeride E, it has been updated to better handle commutes and city traffic instead of off-roading. Riders will still need to get the best scooter gear and accessories customized for commutes, but investing in an eco-friendly bike is the first step toward green motorcycle practices.

The manufacturer revealed the design at the 2013 Tokyo Motorcycle Show last month, but no timetable was set for the scooter's introduction to the market. As positive feedback came in, KTM began making plans to produce the bike and roll it out in several markets in the coming years.