AMA Kicks Off 'Go Ride Safely!' Week
Chaparral Motorsports
|
April 23, 2013
[caption id="attachment_25477" align="alignright" width="300"]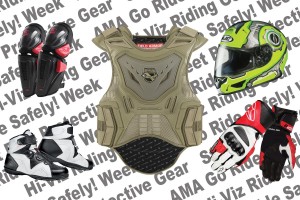 AMA Go Ride! Safely Week - Street Bike Protective Gear[/caption]

As April comes to a close, so does the AMA's Go Ride! Month, which was dedicated to exposing others to experience the wonders of motorcycling. To end the month in style, the organization is celebrating Go Ride Safely! Week to raise awareness about protective motorcycle gear and the best practices for riders everywhere.

Throughout this week, which began April 21, motorists are encouraged to talk about safety on the roads. As the arrival of May will bring the start Motorcycle Awareness Month, the AMA believes this is the perfect time to talk about the most important issues facing riders - primarily, their safety.

"When it comes to riding responsibly and reducing risk, the AMA strongly encourages its members and all motorcyclists to take rider training and wear protective gear," said Rob Dingman, AMA president. "In addition, we advocate nationally for driver awareness programs to alert other roadway users to our presence in traffic."

Riders can submit stories and photos of themselves relating to responsible riding. The AMA has been giving away helmets, motorcycle boots and other pieces of protective gear throughout the month, and a few select riders may be able to take advantage of these prizes to upgrade their accessories.