Arai Helmets Customized For The US Market
Chaparral Motorsports
|
April 19, 2013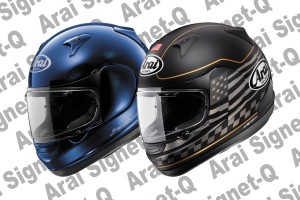 Street bike helmets are probably the most important investment any rider can make. The protection they offer can save lives, so it is vital that motorcycle owners invest in the top brands that provide the right level of safety.

To make helmets better suited to American riders, the manufacturer Arai conducted a series of studies to determine how the brand could be customized. According to Motorcycle.com, it found that Americans typically have longer, narrower heads than their foreign counterparts, and as such they may be more likely to purchase helmets that are a better fit to this unique shape.

Arai updated the shape of its helmets to make them more comfortable and safer for riders in North America. In its quest to create a helmet with a perfect fit, Arai offers motorcycle helmets in several different interior shapes, thus allowing more people to find a better and more comfortable fit. The manufacturer is continually refining its look to provide a better fit for each and every rider.

The design with the longest oval shape, called the [mageProductLink sku="381-7300" title="Arai Signet-Q Full Face Helmet"]Signet-Q[/mageProductLink], is equipped with Facial Contour Support that fits the face shape of the user. This piece of motorcycle gear also has an emergency cheek pad release system, peel-away temple side pads and a Max-Vision visor, all of which help make the helmet a top safety accessory.