Motorcycle Maniac: 2013 Triumph Street Triple R
Chaparral Motorsports
|
April 12, 2013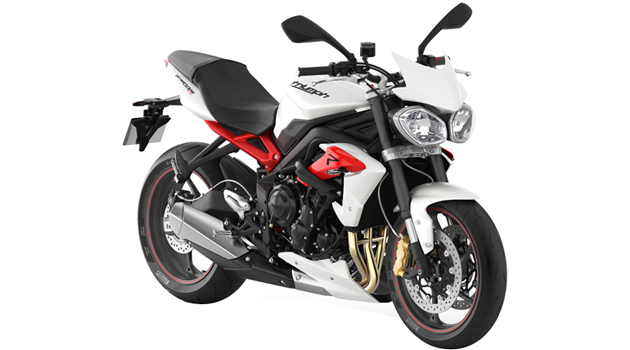 2013 Triumph Street Triple R: An Unrivaled Thrill On The Open Road
There are many sport bikes and roadsters to choose from these days, but very few really stand out from the pack. The 2013 Triumph Street Triple R, however, does just that. It doesn't look to be a very special bike at first glance, but what this ride lacks in looks it more than makes up for in performance and handling. I recently had the chance to test ride one of these bad boys, and they practically had to drag me off the bike. It was so much fun that I'm considering investing in one myself.

Plenty Of Power To Play With
The Street Triple R has a lightweight chassis that is 36 pounds lighter than the 2012 model, which makes it feel noticeably more nimble and responsive on the road. This is the first time Triumph has really made major changes to the bike since 2007, so it was about time for some upgrades. The latest model has a 675cc liquid-cooled 12-valve in-line three cylinder, which is where it gets the Triple in its name. This motor provides a modest 57 horsepower at 11,850 RPM, which isn't a lot on paper. However, you won't even remember the horses are not as plentiful as they are on other motorcycles when you ride this bike.

Lower Center Of Gravity Improves Handling
Thanks to a lower center of gravity, the Street Triple R feels firmly planted on the ground no matter how fast you're going. It won't wake the neighbors either, as the bike comes equipped with an under-engine silencer which keeps things running a bit more quietly. This feature is part of a 3 into 1 exhaust system that helps to bring down the center of gravity while also improving engine performance.

Brake
Gear

Improves Safety

The street bike also features four-piston brakes that are made to perform under pressure, so you'll be able to stop on a dime even if you're traveling at high speeds. The Switchable ABS is another great feature that comes standard on the Street Triple R - the mechanism can easily be turned off, giving you the freedom to brake as hard as you want and tear up the track. You don't have to worry about remembering to turn the ABS back on the next time you hit the road. It automatically resets the next time you fire up the engine.

2013 Triumph Street Triple R Image Gallery
(Click for full size images)