The Dirt Bike Guy: 2013 KTM 500 EXC
Chaparral Motorsports
|
April 6, 2013
|
Last Updated: October 12, 2020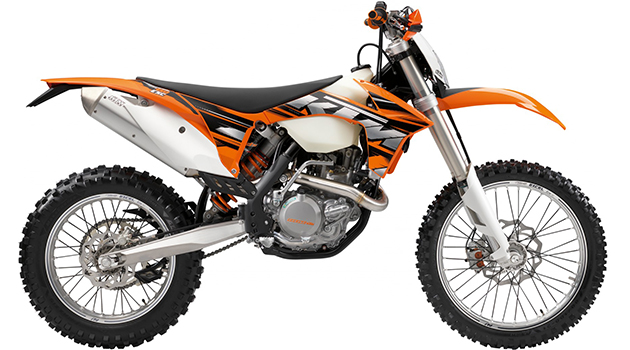 2013 KTM 500 EXC: An Updated Dirt Bike For Any Rider
I'm always on the lookout for the next great dirt bike, partly so I can keep improving my skills on the track. Changes made to motorcycles usually make for a better overall riding experience - and that's certainly the case with the 2013 KTM 500 EXC. Having only ridden older models from this line in the past, I was ready to get my hands on this most recent bike, and in doing so I found out just why so many professionals swear by KTM motorcycles.
Engine Specifications
Powered by a one-cylinder, four-stroke engine, the 2013 KTM 500 EXC is designed to provide enough strength to keep any rider happy. The water-cooled motor also has a 510.4cc displacement, giving the bike plenty of oomph while also maintaining its status as an easily handled machine. For people who aren't exactly pro racers, that's a huge bonus. Riders can also take to the track knowing that the clutch is made from one solid piece of steel, which drastically cuts down on the number of potential motorcycle gear problems that may come about.
Lightweight Design And Easy Maintenance
The lightweight design of the bike makes it more than one pound lighter than the closest competitor. While that may not seem like much, it definitely is an added bonus for speed demons who want to take advantage of the engine's power. To go along with the reduced weight, the 2013 KTM 500 EXC was made with ergonomics in mind, and riders will find that the bodywork is tailored to create the ultimate riding experience.
The frame leaves plenty of space for a 2.25-gallon fuel tank, which is easily accessed, along with other dirt bike parts, thanks to the open design of the bike. This 2013 model also boasts shock absorbers by the rear wheel, which is a relatively new addition to the KTM 500 EXC family of bikes but is well worth the wait. The combination of the open frame and the absorbers makes the 2013 KTM 500 EXC extremely easy ride and maintain - a motorcyclist's dream.
New Wheels Give Superior Traction
To keep the 2013 KTM 500 EXC running smoothly over any terrain, the bike comes equipped with new state-of-the-art wheels. Made by GIANT, the 7050 aluminum rims are covered with a corrosion-resistant coating and were developed specifically for KTM. Not only are they supposed to have a long service life, but the wheels should give riders great traction and superior handling over all kinds of terrain.
2013 KTM 500 EXC Image Gallery