Weekend Warrior: 2013 Polaris Sportsman 500 HO
Chaparral Motorsports
|
March 31, 2013
|
Last Updated: August 28, 2020
2013 Polaris Sportsman 500 HO: A Great First ATV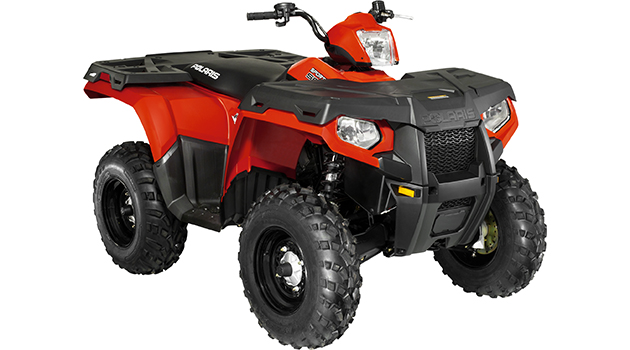 When it comes to buying an ATV for a kid, you can never be too careful. Finding the perfect balance between power and safety is critical, and parents can go months without encountering the right vehicle. Luckily, I've stumbled onto the 2013 Polaris Sportsman 500 HO, the latest in a long line of great utility vehicles from the manufacturer.
If you're searching for an ATV that's safe for kids but fun enough for a motorist of any age, then you'll definitely want to look at the 2013 Polaris Sportsman 500 HO. The no-frills machine is ideal for youngsters learning how to ride, but it packs enough power and special features to make any riding experience a good one.
Four Stroke Engine - With Power, Less Is More
The single-cylinder, liquid-cooled, four-stroke engine on the 2013 Polaris Sportsman 500 HO has a displacement of 498cc. While is about 150cc smaller than most utility vehicles, that's certainly not a bad thing. Because the utility vehicle is on the smaller side, the motor gets the job done, providing adequate power for riding and light tasks. The lower power is ideal for kids who are at the beginning of their motorsports careers, as it can help keep them safe as they learn the ins and outs of handling ATVs.
You may not be able to use the Sportsman for heavy-duty labor, but the towing capacity is high enough that you can still get work done. It can tow up to 1,500 pounds - higher than average ATVs - which more than makes up for the maximum rear rack cargo capacity, which caps out at 180 pounds.
Other Specifications - Dominate The Trails
The 2013 Polaris Sportsman 500 HO comes with all-wheel drive and hydraulic disk brakes to help riders conquer any type of terrain. A fuel capacity of 4.1 gallons and an automatic transmission, as well as a radiator that has been reconfigured to stay out the mud, helps to keep motorists on the trails longer. The 11.25-inch clearance is also slightly higher than average, enabling riders to steer clear of boulders or other obstacles that could damage the underside of the vehicle while still dominating the trails.
Final Thoughts - Loads of Special Features
Available in green and red, as well as a few limited edition colors, the Sportsman comes with a body style that is sleek and aggressive, but also leaves open sight lines and easy-to-use storage for the rider. To top it all off, the 2013 Polaris Sportsman 500 HO starts at a much lower price than similar 2-Up machines, leaving you with some room in the budget to invest in the top safety ATV gear and make upgrades later on.
2013 Polaris Sportsman 500 H.O. Image Gallery