KTM Turns Attention To New Electric Scooter
Chaparral Motorsports
|
March 26, 2013
[caption id="attachment_24635" align="alignright" width="300"]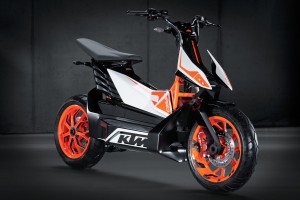 2013 KTM E-Speed Concept Electric Scooter
- Photo: Schedl R.[/caption]

KTM recently unveiled its new E-Speed electric scooter concept at the Tokyo Motorcycle Show. The machine is the second electric model from the manufacturer and aims to bring an environmentally friendly form of transportation to the world of urban sportbikes.

"In the long term, the electric drive will come out on top for short distances - particularly in areas which are highly sensitive from an environmental perspective, like open nature and densely populated metropolitan areas," said Stefan Pierer, CEO of the company. "... Not just because of their environmental credits, but because they are easy to use, quick, and simply great fun."

The new scooter features the same electric battery and motor technology as its predecessor, the Freeride E, but other aspects of the bike have been revamped to better suit a city setting. It has a range of about 40 miles and only takes about two hours to charge from a standard household outlet. While it was made in the image of a scooter, it retains some distinctive KTM features. Orange accents, two unique front air deflectors and a sleek overall look help make the new E-Speed an exciting addition to the electric bike market.