Taddy Blazusiak Wins Fourth World Title
Chaparral Motorsports
|
March 13, 2013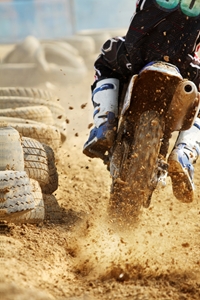 Taddy Blazusiak
completed a dominant motorsports season in Tours, France, last weekend, winning the 2013 FIM SuperEnduro Championship with a flourish as he also completed his third overall event victory.

Blazusiak knew coming into the French event that he would only have to put forward a steady showing, as he had built up almost a 30-point lead over the closest competitor thanks to his performances earlier in the season. He ended any thoughts of an upset early on, winning the first event final before finishing in second and third place in the other two races, respectively.

"Coming into the championship with a 29-point lead, I knew what I needed to do to secure the title," Blazusiak said. "... Winning the championship along with topping each round of the series is fantastic, and I can't ask for anything more."

David Knight and Johnny Walker rounded out the top three in the championship standings, but each were more than 30 points behind the Polish rider, Cycle News reports.

The KTM racer will now have to bide his time until Nov. 17, when the 2013 to 2014 FIM SuperEnduro season kicks off in Liverpool, England.