Victory Motorcycles Offering Satisfaction Guarantee
Chaparral Motorsports
|
March 6, 2013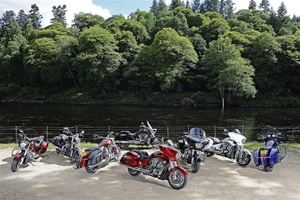 Victory Motorcycles believes in its products - that much is clear. The manufacturer is offering new owners a money-back guarantee - if riders buy a Victory bike and aren't completely satisfied after 30 days, they can return it within another 30 days for a refund of the purchase price of the motorcycle. Enthusiasts can now get the full ownership experience, including using their own motorcycle gear and riding along their favorite routes, and accurately judge if the bike is the right choice for them.

"We've been saying 'Ride One and You'll Own One' for over a year, and we've seen thousands of riders take the challenge and join the Victory ranks," said Josh Fulkerson, Victory's marketing manager. "We're so confident you'll enjoy riding a Victory that we're stepping up to our own challenge and putting our money where our mouth is."

The guarantee builds off a previous promotion where people could test a Victory bike and, if they ended up buying a competitor's motorcycle instead, the company gave them $100, Motorcycle.com reports. The new offer, on the other hand, only applies to new, 2013 bikes purchased between March 1 and April 30, and there must be less than 500 miles logged on the machine and no more than $200 worth of damage stemming from regular use.