Chaparral Motorsports Recognized As A Pro Yamaha Dealership
Chaparral Motorsports
|
February 26, 2013

Chaparral Motorsports Earns Yamaha's Highest Customer Service Recognition Award - Pro Yamaha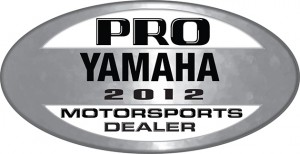 online superstore
was recognized by Yamaha with it's highest customer service recognition award, the prestigious Pro Yamaha designation. Only Yamaha dealers meeting the highest standards for customer service and training receive the Pro Yamaha Motorsports dealer designation. Pro Yamaha Motorsports dealers deliver in the areas of Customer Satisfaction, Superior Sales Experience and The Best Service Experience. Pro Yamaha Motorsports Dealers have been given high ratings by their customers thru consumer satisfaction surveys and come highly recommended by those Chaparral Motorsports' serve.

According to Yamaha, the most well-trained and knowledgeable sales and finance personnel work at the Pro Yamaha Motorsports dealer. The dealerships know how to match the right Yamaha to a potential motorcycle buyers needs, help customers get the most for their money, and help make a motorcycle or ATV purchase process an enjoyable experience. Pro Yamaha dealers are also recognized for their parts and accessories selection for Yamaha motorcycles. Chaparral Motorsports provides a great selection of motorcycle parts, accessories, motorcycle gear, and motorcycle tires, stocking both aftermarket motorcycle parts and factory OEM parts for thousands of Yamaha dirt bikes, street bikes, cruisers, ATVs, UTVs, and scooters.

In addition to providing an excellent buying experience, Pro Yamaha dealers deliver prompt and thorough service in their accredited Service Departments. A Pro Yamaha Motorsports dealer is made up of factory trained managers and technicians that are among the most highly educated in the industry, and are tested and trained thru the Pro Yamaha program to ensure that Pro Yamaha dealer customers receive professional service. They literally and figuratively have all the essential tools to service Yamaha motorcycles, ATVs and scooters quickly and make sure it's fixed right the first time.

"We are proud of our commitment to deliver a high level of customer service and satisfaction to our customers - and the recognition that Yamaha awarded Chaparral for its efforts," states Chaparral Motorsports VP Marketing Crystal Ashby.

About Chaparral Motorsports
Chaparral Motorsports® is recognized as one of the largest motorcycle accessory and vehicle dealerships in the country. Chaparral Motorsports now encompasses a 160,000 square foot footprint. Started as a family motorcycle parts business, Chaparral Motorsports® has developed into a multi-line motorcycle and ATV dealer, offering Honda®, Yamaha®, Kawasaki®, KTM®, Suzuki®, Can-Am, Victory®, Polaris® and Kymco ATV's, motorcycles, and utility vehicles. Check online superstore for more news and information.