Dunlop Brothers Strip Off Gear For Cancer Awareness
Chaparral Motorsports
|
February 24, 2013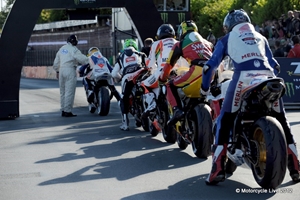 Brothers William and Michael Dunlop, two of the top riders in TT Racing, have teamed up with the Male Cancer Awareness Campaign (MCAC) to raise the profile of the dangerous afflictions that impact men across the globe. While motorsports fans may be used to seeing the two competitors covered from head to toe in motorcycle apparel, they'll only see boots and strategically placed helmets as part of the brothers' involvement in the campaign.

Laura Lacole, a model and the Northern Ireland ambassador to the MCAC, enlisted the duo in an effort to get more men to sign up for special events and remain conscious of problems like testicular cancer, the Belfast Newsletter reports.

"William and Michael have shown their support by stripping down to their boots with only their helmets covering their modesty to inspire their fans to sign up and get involved," Lacole told Motorcycle News. "When I asked them if they would get pictures taken in the nip there wasn't much hesitation, as they said it's for a good cause."

The first event the Dunlops are encouraging participation in is The Belfast Strut, a walk that raises money and awareness for the MCAC.