Nebraska Bill Could Let Motorcyclists Run Red Lights
Chaparral Motorsports
|
February 21, 2013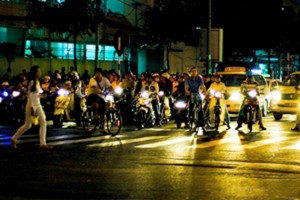 Motorcyclists often encounter problems at red lights. Traffic sensors can pick up the presence of cars and trucks waiting at red lights with ease, but lighter, more compact bikes can occasionally be overlooked. To combat this problem, Paul Schumacher, a Nebraska state senator, has proposed a bill that would allow motorcyclists who have waited more than two minutes at a traffic light to drive through the red light.

Opponents of the bill claim that there is no way to enforce the two-minute waiting period, and some riders could take advantage of the law and recklessly weave through traffic, Auto Evolution reports. However, proponents believe that it could help bikers who are forced to wait for an extended period of time in inclement weather.

Several states already have laws in place that allow motorcycle riders to engage in similar practices. Most suburban and rural areas in Illinois, South Carolina, Missouri, North Carolina, Wisconsin, Tennessee and Minnesota all have regulations permitting bikes to cautiously go through red lights, according to AutoBlog.

Any rider in an area where these laws have been implemented needs to take proper precautions when on his or her bike. Wearing safety gear, such as helmets and motorcycle jackets, should be done anyway, but when there is a possibility of navigating traffic, having the right apparel could make a huge difference in road safety.