Dani Pedrosa Primed After Successful Testing Session
Chaparral Motorsports
|
February 7, 2013
[caption id="attachment_23353" align="alignright" width="300"]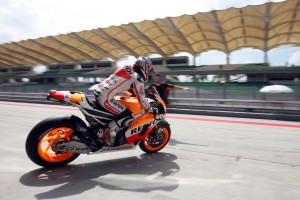 Dani Pedrosa is poised to attack the 2013 MotoGP season.[/caption]

Dani Pedrosa is poised to attack the 2013 MotoGP season. The Repsol Honda rider came out on top on all three days of motorsports testing at the Sepang International Circuit in Malaysia, cementing his position as one of the people to beat in the upcoming season.

Most of the testing was devoted to working on the engines and motorcycle gear in order to acclimate to the new rules for the 2013 season. New bike weight requirements, updated sport bike tires and different maintenance strategies were all on the agenda for the majority of the teams, and Pedrosa handled the changes with relative ease.

"We can leave Sepang with a good feeling, because we had good lap times on all three days," Pedrosa told Ultimate Motorcycling. "We were able to put in a lot of laps and, above all, try out some important things with the engine and the bike weight ... We finished the test well and hope to continue like this in the following ones."

Pedrosa barely edged out reigning MotoGP champion Jorge Lorenzo, who finished in second place on all three days and was less than a half second behind his rival in all races. Valentino Rossi and Marc Marquez also had a strong testing period, finishing with times in the top five in each of the sessions.