Metzeler Releases New ME888 Marathon Ultra Tire
Chaparral Motorsports
|
February 5, 2013
[caption id="attachment_23306" align="alignright" width="300"]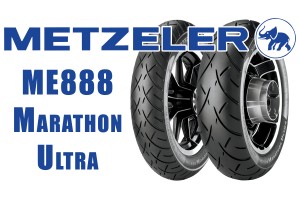 Known as the "Triple 8," the ME888 Marathon Ultra tire offers increased mileage for riders.[/caption]

The V-Twin Expo took place in Cincinnati this past weekend, and during the festivities Metzeler unveiled a new set of tires aimed at increasing performance in all weather conditions. Known as the "Triple 8," the [mageProductLink sku="335-0306-0310" title="Metzler ME888 Marathon Ultra Rear Tire"]ME888 Marathon Ultra tire[/mageProductLink] boasts a new rubber compound, an upgraded structure and a revamped tread pattern, all of which come together to create a tire that offers increased mileage for riders.

Metzeler focused on improving the structural fatigue and wear of its existing tires, Ultimate Motorcycling reports. A wider tread helps to channel water in extreme weather conditions, while a wider overall tire distributes the weight of the bike over a larger distance, thereby decreasing the pressure exerted on parts of the wheel. These concepts should all contribute to a longer life for the set of tires as well as a better riding experience.

"We fine-tuned all the features that made the ME880 such a success, and then focused on significant mileage improvement," Chris Wall, Metzeler's director of marketing, told Motorcycle.com. "As opposed to rushing the market with a tire that called for compromise, we took the time to engineer a high mileage tire while maintaining all of the characteristics that make a Metzeler tire."