Motorcycle Show To Support Riders For Health
Chaparral Motorsports
|
January 17, 2013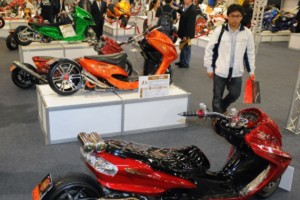 Riders across the U.S. take part in rallies and shows celebrating motorcycle culture. However, these gatherings are more than just places to show off the latest bikes and motorcycle accessories - they have also embraced charity and are considered to be beneficial to many groups.

The Vintage Motorcycle Festival, which will be held in Tacoma, Washington, on August 24 and 25, is one celebration that is dedicated to helping worthy causes during its events. This year's festivities will showcase Riders for Health, with the organization raising awareness and funds for its international programs.

For more than 20 years, Riders for Health has provided motorcycles, gear and rider training for healthcare workers in Africa. The bikes allow volunteers to travel to remote villages and other hard-to-reach locations where they then provide aid.

"The work done by Riders for Health is the most benevolent use of motorcycles I have ever heard of anywhere," said Burt Richmond, chairman of the festival. "... I'm proud we are supporting this vital cause, one that is working so hard to bring better healthcare ​to so many people in Africa."