Motorcycle Maniac: 2012 Harley-Davidson Sportster Iron 883
Chaparral Motorsports
|
January 10, 2013
|
Last Updated: September 17, 2020
2012 Harley-Davidson Sportster Iron 883 XL883N: Subtle Looks For A Powerful Ride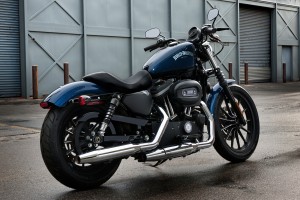 Most of the motorcycles in Harley-Davidson's cruiser lineup are decked out in more chrome than you would think you could fit on a bike, but the 2012 Sportster Iron 883 XL883N is the exception to that standard. This bike was designed with simplicity in mind, and is meant to blend in with the crowd rather than attract attention. You might be thinking that this description doesn't really fit a Harley, but when you climb onto this hog, you'll have no trouble understanding the Iron 883 is just as much a member of the H-D family as any of its flashier siblings.
The Iron 883 is the sixth bike, and second sportster, to join the ranks of the Dark Custom lineup, so there are a few other "black sheep" in the family, but I find I'm drawn to this model in particular because of its sheer force on the road. The 883cc V-Twin engine packs a serious punch, and it certainly sounds like any other Harley when you fire up the engine, even though it might not look like one at first glance.
Unlike a lot of sport bikes, the Iron 883 does not have an excessive dash panel with dozens of dials and displays. In fact, this ride doesn't even have a fuel gauge, so you may want to remember to keep an eye on how long you've been on the road. There is a simple speedometer with warning lights to indicate when you're running low on fuel and when your bike may need to be serviced. The whole bike is painted in a subtle matte black, from the handlebars to the fuel tank and even the wheel spokes. Aside from a few metallic highlights on the engine and the exhaust pipes, this bike could easily disappear into the shadows or get lost in a crowd.
If you're a tall rider, you might want to avoid this bike, however, as anyone over 5 feet, 10 inches tall is likely going to feel more than cramped trying to cruise around town on the 883. The bike is built for shorter riders, as it has a low, 23.6-inch seat height, and the footpegs are positioned in such a way that anyone on the taller end of the spectrum will find their knees are practically kissing the handlebars. The bike is also pretty narrow, so taller riders might have trouble adjusting their weight as they take turns.
2012 Harley-Davidson Sportster Iron 883 XL883N Image Gallery