Electric Motorcycle Tax Breaks Extended
Chaparral Motorsports
|
January 4, 2013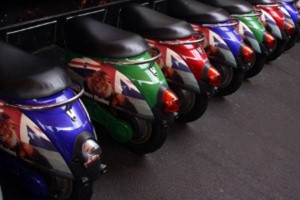 The nation breathed a sigh of relief when the news broke that the U.S. government had passed legislation avoiding the dreaded "fiscal cliff," but motorcycle riders may have rejoiced for another reason. As part of the budget deal, people who purchase electric two- or three-wheeled vehicles can claim a tax credit, as long as the machines are street legal and can achieve speeds of 45 miles per hour or higher, Motorcycle.com reports.

According to Bloomberg, the deal could help create more than 16,000 jobs in the U.S. electric motorcycle industry in the next five years, as the tax breaks may relieve financial pressure on companies and expand their offerings. This would allow manufacturers to allocate more resources toward the production of environmentally friendly accessories and other bike advancements.

Brammo, Inc., one of the leading developers of electric motorcycles and gear in the U.S., spoke out in praise of the provision. With the ability to potentially save riders up to $2,500, the tax break may encourage people to take a second look at the eco-conscious bikes.

"It makes us proud when our elected office holders work together, and excited for what this means for electric vehicles and the electric motorcycle industry, which will make these 'vehicles of the future' more accessible to all consumers," said Craig Bramscher, CEO of Brammo.