Weekend Warrior: 2012 Honda FourTrax Foreman
Chaparral Motorsports
|
December 30, 2012
2012 Honda Fourtrax Foreman: Built Tough To Get The Job Done
[caption id="attachment_22445" align="alignright" width="300"]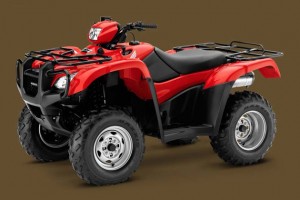 The 2012 Honda FourTrax Foreman is a great choice for riders who have a lot of outdoor, off-road work to do.[/caption]

Honda recently debuted the 2013 Fourtrax Foreman, but since the company made so many changes and upgrades last year, there isn't much to report about the new model. However, the introduction of the newer version of this 4x4 means you'll soon be able to find used 2012 models for sale. The 2012 Foreman received a major overhaul, and Honda stocked it with plenty of modern amenities that made it a powerful and agile ATV without sacrificing comfort. All in all, this ATV is a great choice for riders who have a lot of outdoor, off-road work to do.

There were two major changes for the 2012 Foreman - a new engine and a revamped chassis. Unlike the single-cylinder, four-stroke engine from the 2011 model, the 2012 version switched to liquid cooling instead of air and has a higher compression ratio even though the displacement of 475cc is unchanged. It also features a new programmed fuel injection system that improves throttle body control, makes it easier to operate in cold climates and high altitudes, and uses fuel more efficiently to help riders save on gas. There's also a major boost in torque and horsepower (6 and 10 percent, respectively), making it easier to haul around large loads.

The 2012 Foreman's body was designed to reflect its more rugged nature, with oversized fenders that not only give the ATV a tough appeal but also help protect against splashing when riding through muddy terrain. In addition to this, Honda included a new rear suspension system that features one rear shock absorber coupled with a wider steel swingarm design that gives you an impressive 6.9 inches of travel. It doesn't hurt that this system is also lighter than in previous models. Additionally, the 2012 design has a shorter wheelbase, which lets the rider turn the ATV around in tighter spaces than before, providing a greater scope of places it can travel.

Stopping is just as important as moving forward when it comes to 4x4s, and Honda did not disappoint with its braking upgrades. The Japanese company upped the ante with the front brakes, increasing the disc size from 180mm to 196mm. This jump helps to improve the quality of the brakes, making them more reliable especially when you've got a heavy load hitched to the rear of the ATV.