U.S. To Host Premiere World Motorcycle Speedway Event
Chaparral Motorsports
|
December 28, 2012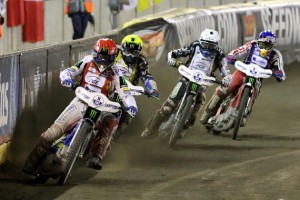 For the first time since the 1980s, a main event for World Motorcycle Speedway will be held on American soil. The last series race of this magnitude to be held in the U.S. was the 1988 World Team Cup Final, but the motorsports series is making a comeback with its December 29 event in Industry, California.

"On an international level, there hasn't been anything like this since the 80s - nothing of this nature anyway," said former champion and current racer Greg Hancock. "... It's not just a one-hit wonder. It's something we hope to run for years coming."

The prospect of future events will likely depend on the success of this race, but it is off to a strong starts thanks to the field of competitors, which should make this a tightly contested affair. Speedway heavyweights like seven-time British Champion Scott Nicholls, under-21 champion Maciej Janowski and Hans Andersen will all be laying it on the line in California.

The Monster Energy World Speedway Invitational will have 16 riders competing in the flat-track motorcycle race, which is comprised of four-lap heats, a semifinal and a final, The Los Angeles Times reports.