AMA Supercross Releases Smartphone App
Chaparral Motorsports
|
December 27, 2012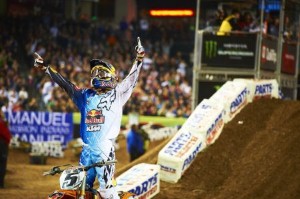 AMA Supercross is a fast-paced sport, and often its fans are on-the-go as well. While in the past this may have prevented racing enthusiasts from staying up to date on all of the happenings of the motorsports world, it's now easier than ever to stay connected with the help of the official AMA Supercross smartphone app.

The app will provide live updates of races and times, news and historical facts that are sure to amuse enthusiasts. Fans will also be able to access point standings, photos, race commentary and social media platforms, where they can find out immediate information or take the pulse of the fan base.

"While live and in-person is always the best way to experience AMA Supercross, the AMA Supercross app delivers all that data and more to fans who can't make it to the track - as well as those at the stadium who want a completely immersive experience," said director Kevin Crowther.

The app is currently available for both Android and iOS devices. Its cost has been reduced to $0.99 until the season begins January 5, when it will go back to its regular price of $1.99.