AMA Announces New Supercross App
Chaparral Motorsports
|
December 26, 2012
AMA Supercross App Offers Direct Connection To World's Coolest Indoor Motorsport
Staying connected to the most-thrilling indoor motorsport on Earth is now easier than ever, thanks to a new AMA Supercross app for Apple and Android smartphones that includes live timing and scoring, series news and historical results.

"AMA Supercross fans accept no less than full-throttle action on the track, so it only makes sense that they'll want up-to-the-second data when they turn to their smartphones," said AMA Director of Supercross Kevin Crowther. "While live and in-person is always the best way to experience AMA Supercross, the AMA Supercross app delivers all that data and more to fans who can't make it to the track -- as well as those at the stadium who want a completely immersive experience."

In addition to live timing and scoring from each event, the official AMA Supercross app includes access to historical results, point standings, news and links to social media outlets so fans can share their excitement about AMA Supercross.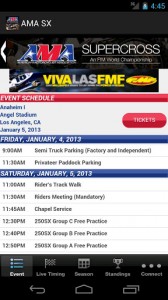 The AMA Supercross app is regularly priced at $1.99, but is available now for the pre-season price of $0.99. It can be downloaded from iTunes or the Google Play store. To buy the app, search for "AMA Pro Supercross."

AMA Supercross live timing and scoring is also available online at www.amasupercross.com. In addition to live race updates, www.amasupercross.com includes archived practice, qualifying and results information; on-location race-day photography by one of the sport's premier shooters, Jeff Kardas; the official 2013 AMA Supercross Series Media Guide; rider numbers and biographies; schedule and ticket information; the official AMA Supercross Series Rulebook; and rider bulletins and competition notices.

AMA Supercross live timing and scoring will begin Saturday, Jan. 5, as timed practice gets underway at Angel Stadium in Anaheim, Calif. Photos, race reports, interviews and commentary will be posted as soon as they are available.

To buy tickets to events on the AMA Supercross calendar, visit www.supercrossonline.com.

About the American Motorcyclist Association
Since 1924, the AMA has protected the future of motorcycling and promoted the motorcycle lifestyle. AMA members come from all walks of life, and they navigate many different routes on their journey to the same destination: freedom on two wheels. As the world's largest motorcycling rights organization, the AMA advocates for motorcyclists' interests in the halls of local, state and federal government, the committees of international governing organizations, and the court of public opinion. Through member clubs, promoters and partners, the AMA sanctions more motorsports competition and motorcycle recreational events than any other organization in the world. AMA members receive money-saving discounts from dozens of well-known suppliers of motorcycle services, gear and apparel, bike rental, transport, hotel stays and more. Through the AMA Motorcycle Hall of Fame, the AMA honors the heroes and the heritage of motorcycling for future generations. For more information, please visit AmericanMotorcyclist.com.