MotoGP Adds Penalty Point System
Chaparral Motorsports
|
December 20, 2012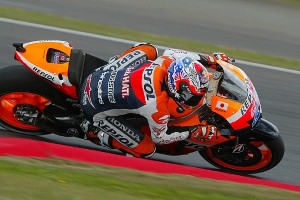 In an effort to curb rule-breaking in MotoGP, the motorsports series is adding a penalty points system that will punish riders who act out during events. Points will be given out by race officials for actions deemed inappropriate during a competition and can be awarded in increments from one to 10, depending on the official's opinion.

"It has been recognized that there is a need to address the problem of riders who are constantly being warned or penalized for endangering other riders or committing other serious offenses, like assaulting marshals or other officials," FIM spokespeople wrote in their decision.

Riders who reach four points will only have to do a back-of-the-grid start at their next race. Those at seven points will have to start the next race from the pit lane and earning 10 points results in a one-event ban. Once a rider reaches 10 points, the total is reset back to zero, and points will not carry over from year to year.

This change was just one of many alterations that will be in effect in 2013. The series is introducing a new way of allocating motorcycle tires that is not dependent on the circuit, requiring more consistent results in qualifying rounds to move onto the final and improving safety measures to help riders stay aware during their races.