Attack Performance, GP Tech Receive MotoGP Wildcard Status
Chaparral Motorsports
|
December 18, 2012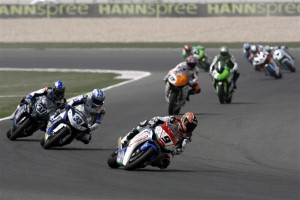 Attack Performance Racing and GP Tech were the first teams to ever build and race motorcycles in MotoGP under the wildcard entry, successfully making it into the motorsports series in 2012. Both organizations will return to MotoGP in 2013, receiving invitations to race as wildcards in the three U.S. rounds.

These events will take place at the Circuit of the Americas in Austin, Texas; the Mazda Raceway Laguna Seca in Monterey, California; and the Indianapolis Motor Speedway in Indianapolis, Indiana, Road Racing World reports. These races will take place April 19 to 21, July 19 to 21 and August 16 to 18, respectively.

According to Motorcycle.com, Attack Performance premiered Laguna Seca but failed to qualify for the final rounds after a gear problem sidelined the team. The Indianapolis Grand Prix was a different story, as the team finished in 14th place behind rider Steve Rapp and earned two championship points. GP Tech made its debut at the Indianapolis Motor Speedway when Aaron Yates completed the race in 16th place overall, the news source reports.

Neither team has named their riders for the upcoming season.