"Superbike Family" Television Series Returns For Second Season
Chaparral Motorsports
|
December 10, 2012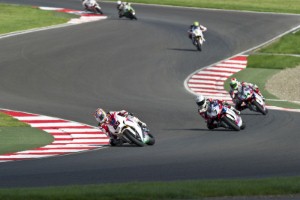 Speed TV is debuting the second season of its motorsports reality show "The Superbike Family," which tracks the progress of Larry Pegram's Foremost Insurance Group-sponsored team. The program follows the family-run team as they strive to make it in the racing world. Pegram, who has been involved with professional motorcycling since 1988, has included his wife, children and friends in his quest for racing success.

Filming began during the first weekend of AMA Superbike events at the Daytona International Speedway and continued throughout the 2012 season. Viewers will be able to follow the trials and tribulations of the Pegram family as they and their team compete throughout the season.

"Pegram Racing is a first-class operation and it's great to give people the chance to see that," said Randy Slotten, director of marketing at Foremost Insurance. "The show gets down to the actual dream Larry had of becoming a Superbike racer and how his family has supported him. It's not only entertaining, but sheds light on just what it takes to make a team like this run."

The first episode will air January 5 before the live coverage of the Anaheim Supercross, which is the opening of the 2013 Supercross season.