Isle Of Man TT Gains FIM Status
Chaparral Motorsports
|
November 29, 2012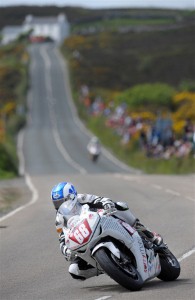 The ManX Grand Prix has received the status of a FIM International event, allowing competitors from countries like Australia and the U.S. to participate in the annual motorsports race.

The upcoming festivities will mark the 90th anniversary for the race, which was previously part of the European Open. It has been growing in popularity over the past few years, with more than 50 new racers participating in the 2012 running compared to 2011. In addition to the newcomers, many countries had representatives at the race for the first time in 2012, including Sweden, the Czech Republic, France and Germany.

With the status changing to that of an FIM International race, the 2013 festivities may see an even larger increase in the number of participants.

"We are delighted that the meeting has secured FIM international status as it will now make it easier for competitors..." said Harvey Garton, chairman of the ManX Motorcycle Club. "The growing international profile of the event means that we are receiving more and inquiries from competitors outside the usual participating countries and this new status will make it easier for them to compete."

The 2013 festivities will begin on the Isle of Man from May 25 to June 3, according to Ultimate Motorcycling.