JCR/Honda Wins SCORE Baja 1000
Chaparral Motorsports
|
November 21, 2012
JCR/Honda wins the SCORE Baja 1000 and takes the 2012 1X Championship
[caption id="attachment_18255" align="alignright" width="300"]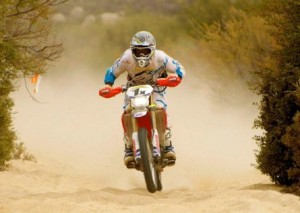 The JCR/Honda trio of Colton Udall, David Kamo and Timmy Weigand won the 45th SCORE Baja 1000 - Photo: Karlos Morales Espinoza[/caption]

The JCR/Honda trio of Colton Udall, David Kamo and Timmy Weigand won the 45th SCORE Baja 1000. With a total time of 20:09:30, averaging 55.64mph. Colton Udall took the lead on adjusted time around mile 100. Around mile 150 is the OX memorial, set up just outside of San Felipe. As Colton was passing the site he found some superhuman speed and was able to quickly pass all competitors and move into the psychical lead as well. Was he inspired by OX or was OX there giving him a push, I don't know but it was a reminder to everyone that OX was a passionate Baja competitor and his spirit continues to inspire.

Once Colton had taken the lead, he took control of the race extending his lead to 8 minutes when he handed the bike off to David Kamo at mile 347. Kamo rode a flawless race and handed the bike back to Colton at mile 614. The sun was setting and it was time for the headlights to go on. Colton rode another 170 mile section before handing the bike back to Kamo. Kamo rode a transfer section across some of the most technical water crossings on the course and then handed the bike to Timmy Weigand for the final 300 miles. Timmy brought the bike to the finish line in LaPaz with over an hour lead on the competition. After leading the race for over 970 miles the JCR/Honda team celebrated an dominate victory.

With 298 starting and only 174 finishers, roughly 58%, the rugged bone crushing Baja took its toll on the competition and once again Honda proved its performance and durability is unmatched. Racing for over 1121 miles of the harshest terrain on the planet takes the right bike and the right support, like the incredible JCR/Honda pits crews that work tirelessly to provide the best support on the peninsula and allow the racers to race with complete confidence. JCR's sponsor are also crucial to the success of this team. With legendary brands like Chaparral Motorsports, Fly Racing, Lucas oil, General Tire, Renthall, Pro Circuit, Dunlop, DID, IMS, Acerbis, Noguchi, BRP, Alpinestars, Hinson, Works Connection, Motion Pro, Berkeley Honda, Scotts Performance, VP Fuels, Dirt Digits, AME and Baja Bound Insurance, we know we have the best support and the best parts on the best bike, every time we line up to race.

This was hands down the best bike JCR/Honda has had to date. Prepped by Eric Siraton, the 1X Honda CRF450X was built to handle the stress of the world's toughest race and deliver the performance necessary to take the win! Special thanks to Bones and Mitch at Pro Circuit for making sure we have the best handling bikes in the desert.

"I am overwhelmed by the effort my crews put together to make this race run smoothly. JCR brings a small army of some of the most extraordinary people together to make a race like the Baja 1000 possible. I can't thank them enough for their service and support. I am proud to have each one of them in the JCR family and look forward to many more adventures together. Thank you to the racers for their commitment to upholding this Honda legacy, celebrating 50 years of racing Baja and our 16th Baja 1000 win in a row. I also want to thank my family for being ALL IN with our crazy life. Viva Baja"
-- Johnny Campbell
Source: JCR/Honda