2012 AMA EnduroCross Boise Results
Chaparral Motorsports
|
October 29, 2012
Another EnduroCross Win For Taddy Blazusiak
[caption id="attachment_16056" align="alignright" width="300"]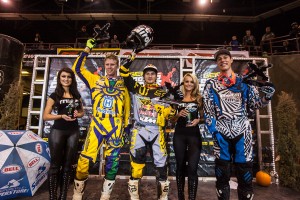 2012 AMA EnduroCross Boise Winner's Podium - Photo: Drew Ruiz[/caption]

The penultimate round of the GEICO AMA EnduroCross series had a familiar face on the top of the podium, as Taddy Blazusiak overcame a fall to win another motorsports race.

Blazusiak took control of the race at the Idaho Center in Boise, jumping out to an early lead and maneuvering through the difficult track. Beta's Cody Webb lead the race from the start, but after the first turn Blazusiak began inching his way to the front of the pack, Dirt Rider Magazine reports. He continued to push forward until the fifth lap, when he passed Webb for good and began opening up a lead of more than 11 seconds.

A crash on the final lap made things interesting. Blazusiak got stuck in the tractor tire obstacle and was forced to remount, allowing Webb to make up precious time. Although he was in striking distance, Webb couldn't find a line to pass the leader and had to settle for second place.

Cory Graffunder battled the rest of the field to grab the final podium spot. The EnduroCross finale will take place on November 17 in Las Vegas, where Blazusiak will be the favorite to clinch the championship title. According to Cycle News, only Taylor Robert is mathematically still in the title hunt, at 57 points behind Blazusiak.

Taddy Blazusiak Wins Another EnduroCross Thriller In Boise
Cody Webb had a shot at the win on the last lap
[caption id="attachment_16054" align="alignright" width="300"]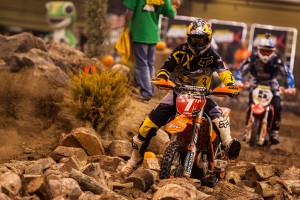 Taddy Blazusiak took another win despite a last lap crash - Photo: Drew Ruiz[/caption]

The penultimate round of the 2012 GEICO AMA EnduroCross series took place inside the Idaho Center, just west of Boise and the packed house witnessed racing on the toughest EnduroCross track yet. The difficult track created a lot of action and KTM's Taddy Blazusiak took another win despite a last lap crash that allowed Beta's Cody Webb to get within striking difference. Husqvarna's Cory Graffunder withstood pressure from multiple riders to earn the last podium position.

Lucas Oil backed Colton Haaker finally managed to stand on top of the results for the MVP Racing Hot Laps. The top 35 riders in the night show do a single lap against the clock to earn the best picks for the heat races. Haaker had finished second at the previous two rounds but this time he managed to set the fastest time ahead of Webb and Mike Brown. Blazusiak had two minor crashes during his lap and finished 17th.

Haaker won the first heat race over Ryan Sandoval. Blazusiak took the holeshot and won heat two over Webb despite a bad gate pick. Graffunder won heat three over GEICO Honda's Geoff Aaron. In the semi's, Kyle Redmond, Justin Soule and Gary Sutherlin won to get the only spots in the main. Then in the LCQ, Bobby Prochnau and Jamie Lanza took the last two spots for the main. Taylor Robert, second in the championship points coming into this event missed qualifying for the main. "This was a really tough track and it was difficult to race because you had to focus on getting through the obstacles", Robert said. Destry Abbott, Bryan Roper, Bobby Garrison, Eric Rhoten and Keith Wineland were also among the riders that missed the cut. KTM's Mike Brown chose to call it a night after the heat race due to an unknown illness that has been bothering him for the last few weeks.

[caption id="attachment_16058" align="alignleft" width="300"]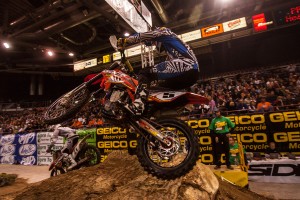 Cody Webb got very close to the lead as he approached the finish but was not able to make a pass - Photo: Drew Ruiz[/caption]

Webb blasted into the first turn with the lead and Blazusiak was buried in the pack as they hit the large log existing the first turn but then he quickly found his way into second. "I was about fifth exiting the first turn and then everybody went wide in the second turn and left the inside wide open for me. So I came out second behind Cody." Webb led the first lap but then Blazusiak found a way by and led laps two through four before Webb passed Blazusiak back in the wood pile and led lap five. Blazusiak again passed Webb and slowly opened up a lead of eleven seconds and appeared to be on his way to another easy win until he got stuck on a tractor tire obstacle on the last lap and Webb got very close as they approached the finish but was not able to make a pass. The battle for the final podium position included several riders. Aaron held the position for the first four laps but then Graffunder and Haaker passed him. Haaker made a few mistakes and Redmond and Soule closed in on Graffunder and both took their shots at passing him but never found a way by Soule ended getting forth and Redmond fifth. Aaron went a lap down and finished sixth ahead of Haaker, Prochnau, Sutherlin, Lanza and Sandoval.

[caption id="attachment_16055" align="alignright" width="300"]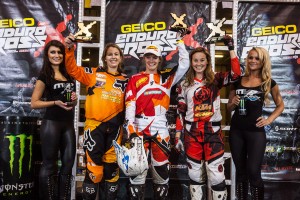 2012 AMA EnduroCross Women's Class Boise Winner's Podium - Photo: Drew Ruiz[/caption]

Each EnduroCross event also includes several support classes. The Open Amateur class was won by Canada's Shane Cuthbertson over Ty Tremaine and Keith Curtis. For the second week in a row, Ty Tremaine came back to win the TrialsCross class. Shad Petersen was second ahead of Joey Hamilton. The Vet 35+ class was another close race with Robert Farrington taking the win ahead of Stephen Foord and Josh Adams. This event was the fourth round of the women's championship (not all rounds count for points) and KTM's Maria Forsberg took the win over Louise Forsley and Kacy Martinez.

Boise, Idaho GEICO EnduroCross, presented by Lucas Oil Expert Main Event results: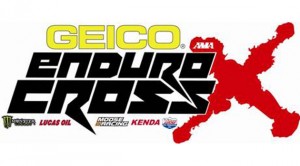 Taddy Blazusiak - KTM

Cody Webb - Beta

Cory Graffunder - Husqvarna

Justin Soule - Kawasaki

Kyle Redmond - Husqvarna

Geoff Aaron - Honda

Colton Haaker - Kawasaki

Bobby Prochnau - KTM

Gary Sutherlin - Kawasaki

Jamie Lanza - Honda

Ryan Sandoval - Yamaha

The next round of the GEICO EnduroCross series, presented by Lucas Oil will take place inside the Orleans Arena on Saturday, November 17th. That event will feature a double main event format that will award full points and purse for each main.

The Las Vegas event tickets are available at www.endurocross.com/buy-tickets/

For more information on the TV Coverage, check your local listings or www.motorsportshour.com.

For more information, go to www.EnduroCross.com.

2012 GEICO AMA EnduroCross Schedule




























































| | Location | Date | Arena / Additional Information |
| --- | --- | --- | --- |
| Round 1 | Las Vegas, NV | May 4, 2012 | Orleans Arena (Friday during Supercross weekend) |
| Round 2 | Sacramento, CA | June 9, 2012 | Power Balance Pavilion |
| Round 3 | Los Angeles, CA | July 1, 2012 | Staples Center (X Games Expert Men and Women only) |
| Round 4 | Ontario, CA | September 15, 2012 | Citizens Business Bank Arena |
| Round 4 | Denver, CO | October 6, 2012 | National Western Complex |
| Round 5 | Everett, WA | October 20, 2012 | Comcast Arena |
| Round 6 | Boise, ID | October 27, 2012 | Idaho Center |
| Round 7 | Las Vegas, NV | November 17, 2012 | Orleans Arena |
EnduroCross tracks incorporate various elements of extreme off road racing into a Supercross-style setting, including rocks, boulders, logs, sand, mud, a water-hole...and even a few special obstacles like giant tires thrown in! Known as the "toughest racing on two wheels," this indoor off road racing will certainly keep you on your feet. For the seven EnduroCross events, be sure to log-on to www.motorsportshour.com for local air dates/times for the Lucas Motorsports Hour on the Versus network.

ENDUROCROSS is a registered trademark of Source Interlink Magazines, LLC.
For rules and race information visit www.EnduroCross.com or email endurocross@sorc.com.

Source: Enduro Cross