Pope Blesses Harley-Davidson Gas Tanks
Chaparral Motorsports
|
October 5, 2012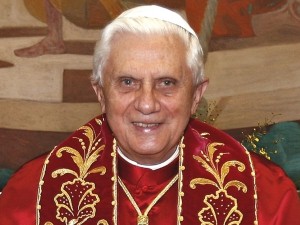 Harley-Davidson is celebrating its 110th anniversary with one unexpected fan - Pope Benedict XVI. The pope was on hand to begin the countdown to the bike maker's Italian event, which will kick off on June 13, 2013.

As part of Harley-Davidson's celebrations, tens of thousands of motorcycle enthusiasts are expected to descend on Rome for a four-day festival, which will honor the brand, its fans and its commitment to motorcycle apparel and gear.

"We're anticipating next year's celebration in Rome to be one of the largest events we've ever held outside the U.S.," said Ken Ostermann, general manager of international marketing at Harley-Davidson. "That is a strong testament to our continued global transformation as we respond to our growing fan base all over the world."

In order to start gearing up for this event, Harley-Davidson presented the pope with two commemorative gas tanks, which were then blessed and signed by the holy leader. One of the tanks will be on display at the Harley-Davidson museum in Milwaukee, while the other will be auctioned off with a bike in support of the Good Samaritan Foundation.

According to the Los Angeles Times, more bikes - and their riders - will have the opportunity to be blessed as part of the anniversary festivities in June.