John McPhee A Wildcard No More
Chaparral Motorsports
|
September 28, 2012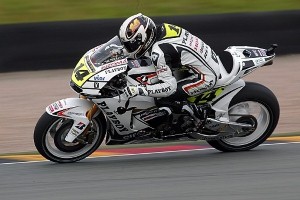 John McPhee began the Moto3 season as a wildcard competitor, but he will end it as a member of the Caretta Technology motorsports team.

The deal will see McPhee race the final five rounds of the Moto3 season with Caretta. He will compete for the team on three unknown circuits in Japan, Malaysia and Australia.

"It's fantastic to be given the opportunity," said McPhee. "To get more experience at world level with a grand prix team like Caretta should give a boost to my prospects of getting a full-time World Championship ride in 2013."

The Scottish teenager will replace the injured Alexis Masbou, who broke his femur in a private test. Masbou was in sixth place in the overall standings. McPhee got the attention of the team after three strong wildcard performances. According to Crash.net, he finished 15th overall in last month's Czech Grand Prix, and at points in the race he was as high as third place.

Caretta has already gotten to work revamping McPhee's bike and updating his sport bike gear. His motorcycle has been outfitted with the team's GP-spec Honda engine and repainted with the team colors.