Brno Moto3 Race Goes To Jonas Folger
Chaparral Motorsports
|
August 31, 2012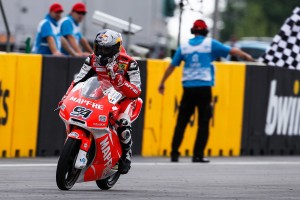 German racer Jonas Folger won his first Moto3 victory this past weekend on the Brno circuit. The KTM rider crossed the finish line with a six-second gap over his closest competitor, as reported by Ultimate Motorcycling.

Tricky weather conditions led to an unpredictable race. According to MotorcycleNews.com, riders made the last minute call on which motorcycle tires to use, with many opting for slicks. Folger used his own slick tires and an aggressive start to stake his claim on the race.

Folger, who came in sixth overall in the standings last year, had been struggling this season, as mechanical problems and general poor performance from his machine caused him to only finish one out of nine races. Then the Spanish Aspar team signed Folger to fill a void left mid-season, and after this win both parties have much to be happy about.

Luis Salom took second place, with this finish adding to his success of his win at Indianapolis. Sandro Cortese, the leader in the championship standings, came in third. Although he has only won two races this season, Cortese's consistent finishes have given him a 32-point lead over Maverick Viñales. Viñales was the fourth place finisher at Brno.

Only six rounds are left to battle for the motorsports title, and Cortese, Viñales and Salom are all in the fight for the Moto3 championship.