Bike Builders Show Their Skills At World Championships
Chaparral Motorsports
|
August 29, 2012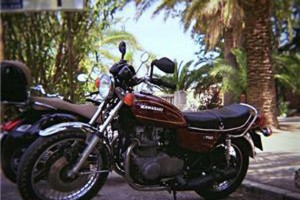 The AMD World Championship of Custom Bike Building took place at the Sturgis Motorcycle Rally in the beginning of August, and some of the best builders were on hand to showcase their skills.

The championship pitted 43 of the world's best custom motorcycle builders against each other in three different classes. Winners were chosen based on votes by fellow competitors and a panel of judges.

Boccin Custom Cycles won the top prize in the Modified Harley-Davidson category. The crowd was wowed by the "Knuckle '46" design used by Lorenzo Solighetto, which was based off of the 1946 Harley-Davidson Knucklehead engine and frame.

The Performance Custom Championship class saw an unprecedented three-way tie for first that was eventually broken by a judge's revote. The winning redesign of the Honda VT 750 BR was built by a group of female motorcycle enthusiasts at AFT Customs of California.

AFT also won last year's event, marking only the second time that any builder defended their crown. But it wouldn't be the last, as Darwin Motorcycles of Oklahoma took the Production Manufacturer Championship for the second year in a row.

Prizes across categories included motorcycle accessories and gear to be used for future custom projects. Unfortunately for American fans, this year marks the last time the United States will host the event for the foreseeable future. Germany will host the the contest in 2013 and the event will most likely remain abroad after that.