Carlin Dunne Makes Race History
Chaparral Motorsports
|
August 14, 2012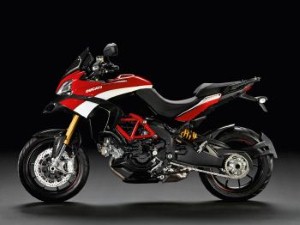 Fans got to witness a momentous finish at the 2012 Pikes Peak Hill Climb this weekend. Carlin Dunne and Greg Tracy, both on the Spider Grips Ducati team, finished the race under 10 minutes, a first in the race's 90-year history. Not only did Dunne set a new course record for the second year in a row, but he and Tracy broke a barrier that stood for nearly a century.

"Today was an emotional day. The year of work the Spider Grips Ducati team put into preparing for Pikes Peak got us across the finish line in under 10 minutes, an achievement we're very proud of. When we heard that we won and broke the record for the second time, I was speechless. The one-two finish proves the Ducati Multistrada 1200 S is the ultimate bike to conquer Pikes Peak," said Dunne.

Top results for the 1205cc are Carlin Dunne and Greg Tracy. Gary Trachy finished first in the 750cc with Jeff Grace in second. Travis Newbold took the finish in the 450cc with Greg Chicoine close behind. Jason Archuleta won the 250cc with Zach Warnock coming in second.