2012 AMA Motocross Washougal Results
Chaparral Motorsports
|
July 24, 2012
Ryan Dungey Wins Washougal
[caption id="attachment_14211" align="alignright" width="300"]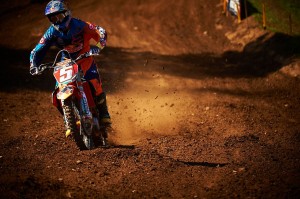 Ryan Dungey captured his sixth overall victory in a row at Washougal MX Park - Photo: Hoppenworld.com[/caption]

Red Bull/KTM rider Ryan Dungey kept his win streak alive after capturing his sixth overall victory in a row at the eighth round of the Lucas Oil Pro Motocross Championship held at Washougal MX Park.

Dungey put together an impressive lap time in the morning qualifying sessions to earn the fastest lap in the 450 MX Class. His fast lap time earned him first gate pick in moto one. His gate choice paid off and he got off to a top three jump in moto one. Within two laps he had moved into 2nd place behind Mike Alessi. Dungey rode an amazing race staying within a bike length of Alessi the entire moto trying every move he could to get around Alessi's defensive blocking tactics. At the end of the moto, Alessi was able to hang on to the win while Dungey finished right behind him to earn 2nd.

"The track was really tough to pass on and Alessi was riding strong in the first moto," remarked Dungey on the podium. "For the second moto, I just need to get out front early and put in some good laps to distance myself from the pack."

Dungey accomplished that goal in the second moto. He ripped the holeshot on his KTM 450 SX-F and never looked back. He went on to lead every lap and cross the finish line over 30 seconds ahead of Alessi who took 2nd. Dungey's victory in the second moto earned him 1st overall for the day.

[caption id="attachment_14212" align="alignleft" width="300"]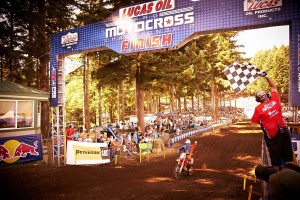 Ryan Dungey's victory in the second moto earned him 1st overall for the day - Photo: Hoppenworld.com[/caption]

"The second moto was much stronger. I was able to get out front at the start of the moto and could focus on my own race and choosing some good lines to put in a solid 30 minute moto," remarked Dungey. "I am really excited to walk away with another win for the Red Bull/KTM Team."

Dungey now holds an 80 point lead in the championship points. The riders will now take a two week break before heading to the ninth round of the series to be held in Southwick, MA on August 11, 2012.

Source: KTM North America

Mike Alessi Snaps Ryan Dungey's Streak
[caption id="attachment_14209" align="alignright" width="300"]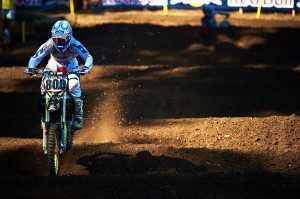 Mike Alessi snapped Ryan Dungey's moto win streak in the first Washougal race - Photo: Frank Hoppen[/caption]

With just a few races left in the AMA Motocross season, it appears Ryan Dungey will remain on top of the leaderboards. However, his chief contender for the championship, Mike Alessi, gave the KTM rider something to think about at Washougal.

Dungey had won ten motos in a row going into the race at Washougal, but Alessi would snap that streak in the first race. The Suzuki rider grabbed the holeshot and got out to an early lead on Dungey, who had a bad start and was back in fourth place. Dungey eventually got to the front, but crashed and allowed Alessi to gain nearly seven seconds on him. Dungey once again got close to the front, but Alessi held him off to pick up the win.

Yet it was ultimately not enough to prevent Dungey from getting the overall win. The KTM rider was out for vengeance in the second round and easily dominated the field, grabbing the holeshot and putting 15 seconds between himself and the rest of the field. Alessi finished second, meaning the two riders tied in points, but Dungey got the overall win due to his superior second-moto result.

Justin Barcia Wins At Washougal
[caption id="attachment_14210" align="alignright" width="300"]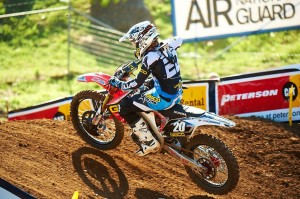 Justin Barcia gained some valuable points at Washougal, closing in on leader Blake Baggett - Photo: Frank Hoppen[/caption]

Justin Barcia finished 1-2 at Washougal to gain some valuable points on 250cc class leader Blake Baggett as the AMA Motocross series begins to wind down.

Baggett has been on fire in recent weeks, but the first moto cost him points in the overall standings. The rider crashed early on and ultimately could manage no better than sixth place. Meanwhile, Barcia was able to get past Marvin Musquin and Eli Tomac to take the win.

"I just made a mistake and tried going faster than I could go," Baggett explained after the race. "I had a couple falls, so I just went back and regrouped."

That regrouping paid off and saved Baggett's lead in the point standings. In the second race, Barcia and Baggett dueled up front for first place, but it was ultimately Baggett who walked away with the win. Still, Barcia managed second place in order to get the overall win for the weekend and cut into Baggett's points lead.

Tomac ultimately finished 2-3, good enough for second overall compared to Baggett's 6-1. The series will be taking a break before returning August 11 in Southwick, Massachusetts.

Red Bull/KTM 250 Motocross Race Report - Washougal MX Park
[caption id="attachment_14214" align="alignright" width="300"]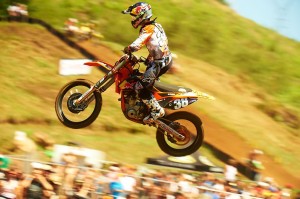 Marvin Musquin launched his KTM 250 SX-F off to a stellar start - Photo: Hoppenworld.com[/caption]

The Red Bull/KTM team of Marvin Musquin and Ken Roczen had a great weekend at the Washougal MX Park as both riders secured top five finishes at the eighth round of the Lucas Oil Pro Motocross Championship Series in the 250 Motocross class.

Musquin and Roczen both turned fast times in the morning practice sessions. Musquin was able to pull the fastest time and earn the Oakley Rocket award while Roczen qualified third fastest. Each rider's fast time helped earn him a good gate pick for the first moto.

Musquin launched his KTM 250 SX-F off to a stellar start at the beginning of moto one to take the holeshot and the early lead. His teammate was not far behind in 4th place. The top five riders stuck together like glue for the first half of the race with Musquin leading the pack. The fans cheered for the entire moto as the riders put on quite a show for the Washington race fans.

Musquin ran the most impressive race of his season in the opening moto as he led the first eleven laps of the race. Musquin eventually relinquished two positions and dropped to 3rd but did not lose sight of the lead riders. Musquin went on to finish in 3rd place for moto one while Roczen placed 4th.

[caption id="attachment_14215" align="alignleft" width="300"]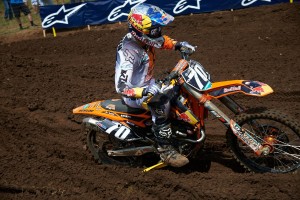 Ken Roczen now sits in 4th position in the overall point standing - Photo: Hoppenworld.com[/caption]

"I am very happy with my first moto," remarked Musquin. "Of course, I would have liked to win, but each week I am making progress and I am very happy to have led as many laps as I did."

In the second moto, Musquin got off to another decent start and was sitting in 3rd place for the majority of the moto. Around the halfway point he fell to 4th place but would remain consistent with his lap times to finish in that position. His 3-4 moto finishes earned him 4th overall for the day. Roczen did not have as great of a start in the second moto and rounded the first corner in 11th place. He made quite a few passes on the very slick and twisty track to move up to 7th place by the end of the moto. His 4-7 moto scores earned him 5th overall for the day.

Roczen now sits in 4th position in the overall point standing with Musquin right behind him in 5th. The riders will now take a two week break before heading to the ninth round of the series to be held in Southwick, MA on August 11, 2012.

Source: KTM North America

JDR/J-Star/KTM Race Report - Washougal MX Park
[caption id="attachment_14208" align="alignright" width="300"]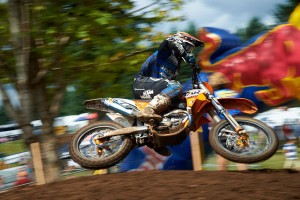 Malcolm Stewart finished 11th overall at Washougal MX Park - Photo: Hoppenworld.com[/caption]

JDR/J-Star/KTM rider Malcolm Stewart finished 11th overall at the eighth round of the Lucas Oil Pro 250 Motocross Championship held at Washougal MX Park.

In the first moto, Stewart jumped off to a decent start and was sitting right outside the top ten as the riders rounded the first corner. He came across the finish line in 11th place at the end of the first lap and maintained his position throughout the moto to finish 11th.

"I would have liked to break into the top ten," stated Stewart. "But I am happy to remain consistent in a moto and maintain my speed throughout the race to hold my position. I am hoping to continue to improve from here and hopefully remain consistent in moto two."

In the second moto, Stewart jumped out to a better start and was sitting in 7th place as the riders rounded the first corner. He maintained that position for the first half of the race before arm pump got the best of him. He fell back a few positions before matching his first moto performance to capture another 11th place finish in moto two.

Stewart's 11-11 moto finishes earned him 11th overall for the day. He will now take a two-week break before heading to round nine of the series in Southwick, MA on August 11, 2012.

Source: KTM North America

Washougal Overview And Point Standings
2012 AMA Pro Motocross Washougal Image Gallery (Click for full size images)


Overall Results - 450 Class - Moto 1 / Moto 2



Ryan Dungey - 2 / 1

Mike Alessi - 1 / 2

Andrew Short - 4 / 3

Jacob Weimer - 3 / 5

Broc Tickle - 6 / 4

Tommy Hahn - 7 / 7

Kyle Chisholm - 8 / 10

Christian Craig - 10 / 9

Weston Peick - 9 / 11

Josh Grant - 17 / 6

Justin Brayton - 5 / 36

Vince Friese - 14 / 14

Ben LaMay - 12 / 16

Fredrik Noren - 22 / 8

Kevin Rookstool - 16 / 13

Michael Byrne - 13 / 17

Derek Anderson - 19 / 12

Mike Brown - 11 / 35

Tyla Rattray - 15 / 18

Les Smith - 40 / 15

450 Motocross Point Standings - ( Round 8 of 12 )


Ryan Dungey - 383

Mike Alessi - 303

Jacob Weimer - 280

Andrew Short - 247

Broc Tickle - 220

Justin Brayton - 183

Josh Grant - 169

James Stewart - 151

Brett Metcalfe - 142

Kyle Chisholm - 137

Michael Byrne - 122

Nico Izzi - 95

Ryan Sipes - 94

Davi Millsaps - 85

Tommy Hahn - 81

Cole Thompson - 64

Jimmy Albertson - 61

Mathew Lemoine - 61

Tyla Rattray - 58

Vince Friese - 58

Overall Results - 250 Class - Moto 1 / Moto 2


Justin Barcia - 1 / 2

Eli Tomac - 2 / 3

Blake Baggett - 6 / 1

Marvin Musquin - 3 / 4

Ken Roczen - 4 / 7

Blake Wharton - 7 / 6

Justin Bogle - 9 / 5

Wil Hahn - 5 / 10

Ryan Sipes - 8 / 8

Jason Anderson - 10 / 9

Malcolm Stewart - 11 / 11

Jessy Nelson - 13 / 13

Travis Baker - 14 / 15

Martin Davalos - 18 / 12

Kellian Rusk - 16 / 16

Alex Martin - 12 / 36

Tevin Tapia - 17 / 17

Jake Canada - 38 / 14

Ivan Tedesco - 15 / 37

Dakota Tedder - 19 / 19

250 Motocross Point Standings - ( Round 8 of 12 )


Blake Baggett - 355

Justin Barcia - 344

Eli Tomac - 323

Ken Roczen - 305

Marvin Musquin - 256

Wil Hahn - 218

Blake Wharton - 185

Jason Anderson - 168

Jessy Nelson - 144

Travis Baker - 134

Jake Canada - 132

Gareth Swanepoel - 106

Ivan Tedesco - 105

Kyle Cunningham - 96

Malcolm Stewart - 94

Alex Martin - 81

Kyle Peters - 73

Justin Bogle - 66

Martin Davalos - 52

Dakota Tedder - 40

Overall Results - Women's Class - Moto 1 / Moto 2


Ashley Fiolek - 1 / 1

Tarah Gieger - 3 / 2

Mariana Balbi - 4 / 3

Jessica Patterson - 2 / 8

Sara Pettersson - 5 / 4

Jacqueline Strong - 9 / 5

Hailey Larson - 8 / 6

Kasie Creson - 7 / 7

Alexah Pearson - 6 / 9

Amanda Brown - 10 / 11

Sade Allender - 13 / 10

Brianna DeGray - 12 / 13

Sarah Whitmore - 11 / 14

April Zastrow - 14 / 12

Ashley Boham - 15 / 15

Jackie Ives - 17 / 16

Tressa Rau - 19 / 17

Rachel Karlgaard - 18 / 18

Jessie Wharton - 16 / 25

Meghan McClain - 20 / 19

Women's Motocross Point Standings - ( Round 6 of 8 )


Jessica Patterson - 236

Tarah Gieger - 234

Ashley Fiolek - 225

Mariana Balbi - 193

Jacqueline Strong - 176

Kasie Creson - 174

Sara Pettersson - 173

Sayaka Kaneshiro - 137

Alexah Pearson - 127

Sade Allender - 118

Amanda Brown - 112

Brianna DeGray - 99

Sarah Whitmore - 94

Meghan Rutledge - 78

Jackie Ives - 58

Hailey Larson - 48

April Zastrow - 45

Shelby Rolen - 38

Lindsey Palmer - 32

Marissa Markelon - 29