Motorcycle Maniac: Harley-Davidson XL1200V "Seventy-Two" Brings Back Barebones Styling
Chaparral Motorsports
|
July 13, 2012
[caption id="attachment_14053" align="alignright" width="300"]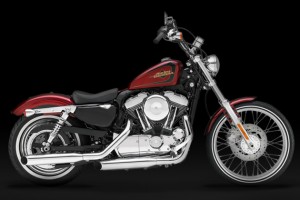 2012 Harley-Davidson XL1200V "Seventy-Two"[/caption]

I recently got to test drive the new 2012 Harley-Davidson XL1200V "Seventy-Two", and I gotta say this bike is great. It has a retro look inspired by early 70s styling that sets it apart from the rest of H-D's lineup, and it's a really comfortable bike to ride on. This is definitely something I could see myself taking to work when the weather's just right.

The Seventy-Two has fun ape-hangers and bright, sparkling fenders with retro decals and pinstriping that give it a real chopper appeal without having to shell out extra dough for the customization. Well, if you want the Hard Candy Big Red Flake paint job, it does add $700 to the price of the bike, which starts around $10,500, but it's definitely worth it if you want a ride that really stands out. The standard color choices - Black Denim and Big Blue Pearl - are alright, but that red really pops. The bike has a long body and skinny whitewall tires with lace-spoked wheels that are a throwback to the days when choppers ruled the road.

Engine and Controls
The 1200cc Evolution engine, or Blockhead, is a classic Harley design adapted from the Shovelhead and Ironhead engines. Its aluminum cylinders and heads keep things light, and the electronic fuel injectors provide a smooth, flawless ride that you just can't get with carburetors. Plus, the EFI means you'll spend less time maintaining and repairing the engine out of necessity. The whole engine is also decked out with chrome, from the rocker covers to the air cleaner cover.

[caption id="attachment_14054" align="alignleft" width="300"]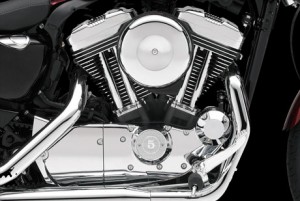 The 1200cc Evolution engine is a classic Harley design.[/caption]

The bike has intuitive handlebar controls, which make it extremely easy to signal turns and drive safely, a major priority for me. You don't have to worry about anyone trying to steal your ride, either. The Seventy-Two has an optional hands-free fob you just pop in your pocket. When you walk away from your bike, an alarm is automatically enabled so eager beavers can't get too close to your Harley without the bike raising a racket.

Like any Harley, the Seventy-Two rides smoothly with unparalleled precision, balance and handling. However, its exhaust pipes work a bit too well. While I'm not looking for a motorcycle that sets off car alarms when I cruise down the street, I also want something that grabs attention and lets people know I'm on a Harley. At least replacing the exhaust pipes is an easy project. All in all, I really enjoy the H-D Seventy-Two for its stunning retro styling, and it rides as great as you'd expect a Harley to.

Harley-Davidson XL1200V "Seventy-Two" Image Gallery
(Click for full size images)