Jorge Lorenzo Moves On After Alvaro Bautista Crash
Chaparral Motorsports
|
July 6, 2012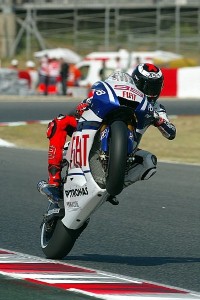 After the Dutch GP ended with Jorge Lorenzo getting zero points due to a crash with Alvaro Bautista on the very first turn, the Yamaha rider was not a happy man. In that one move, Lorenzo's 25-point lead over Casey Stoner in the overall standings evaporated, leaving the two riders tied heading into the German GP.

Lorenzo was outspoken after the race, blasting Bautista for what he termed a "crazy" move. The Yamaha rider also revealed that he felt the penalty for Bautista was inadequate.

"I met him after the incident, he apologized and we shook hands but in my opinion this is not enough to justify the accident," said Lorenzo. "When I made a mistake in Japan in 2005 I was penalized with a race [ban]. Race Direction told me that he will start from last position on the grid in Sachsenring but this is nothing."

While Lorenzo was livid after the race, MotoGP.com later reported the Spaniard had backed off his heated comments. The rider said he had been "too outspoken" after the incident and that he now "firmly accepts" the apology from Bautista.

Lorenzo's ankle was reportedly injured in the crash, but it's not broken, allowing the Yamaha rider to compete in this weekend's German GP.